I've wanted to go to Seattle for years now, and this year we finally made it happen! Since we went in the off-season (mid-December) there were hardly any tourists which was great. While the weather was cold, it hardly rained so we were basically able to walk everywhere which was great!
Read below for more details about our stay in Seattle! xx
Our Stay At The Kimpton Palladian Hotel
We checked into the
Palladian Hotel
on Thursday night and had SUCH an amazing stay. I really can't recommend this hotel enough. It's a 3-minute walk to Pike's Place and the location is perfect. I'll dive more into the location below, but it's an affordable option right in the heart of downtown Seattle and has a unique, trendy touch. The service was great too! Staff was so kind and friendly. They had a dog named Molly at the front desk too!! (Yes, it's pet-friendly!!! Next time Jojo will have to come with us.)
The only times we took an Uber were to/from the airport and to/from T-Mobile Park for ice skating! The rest of the time we were able to walk everywhere we wanted to go. It was seriously in the best spot in town!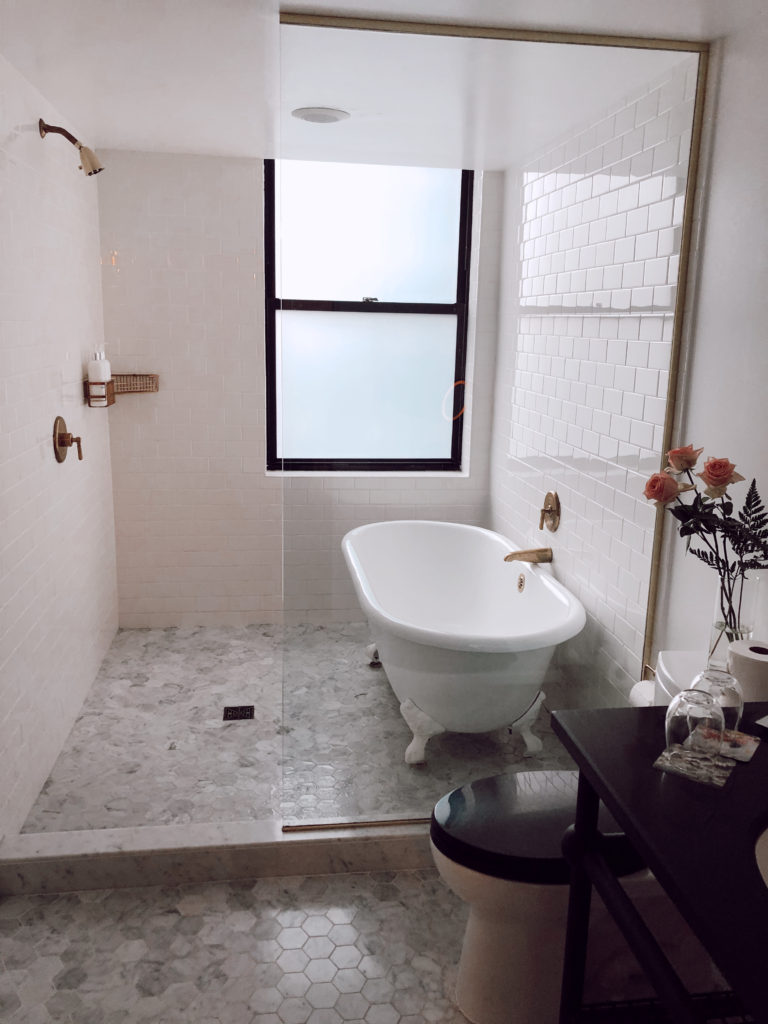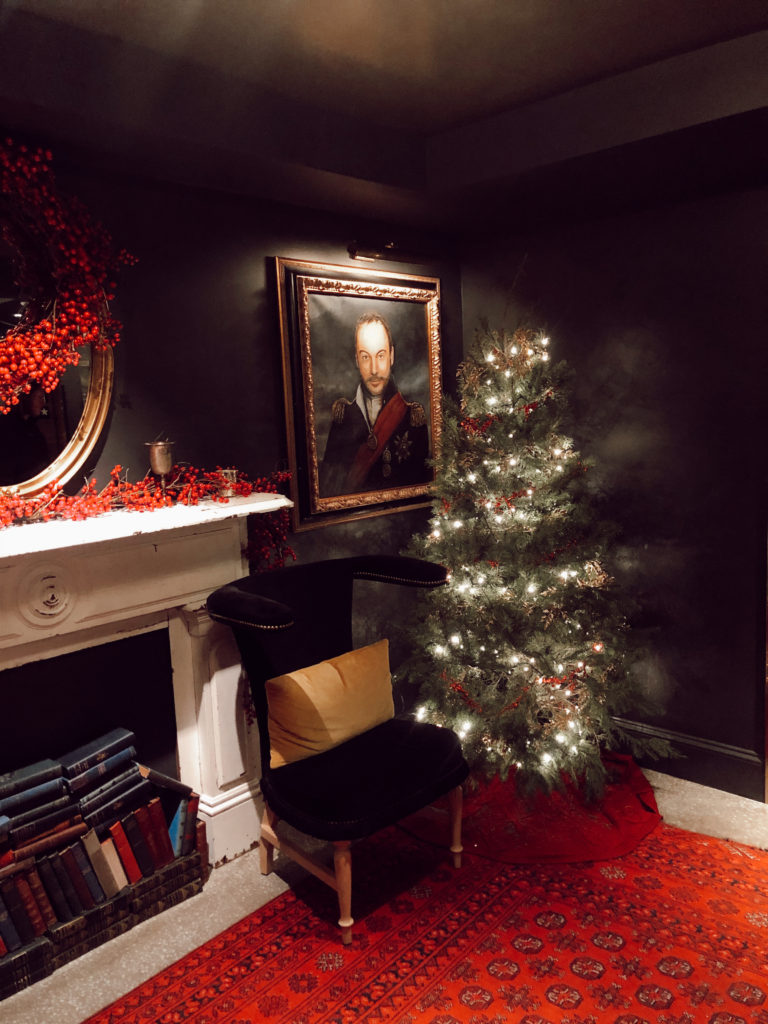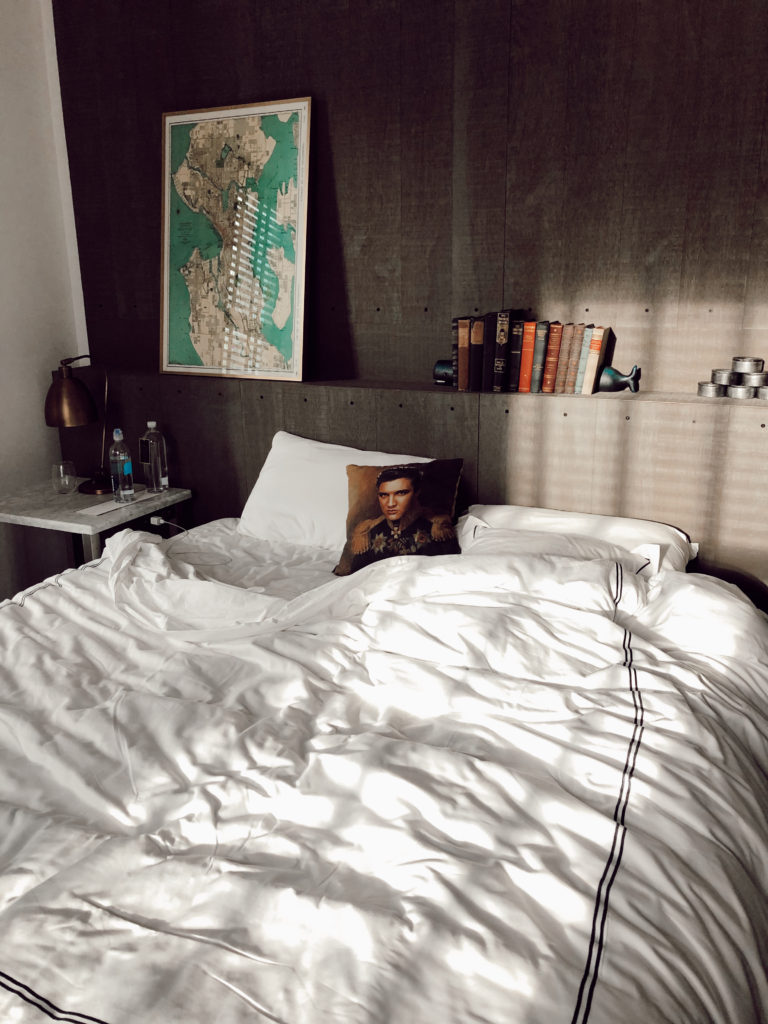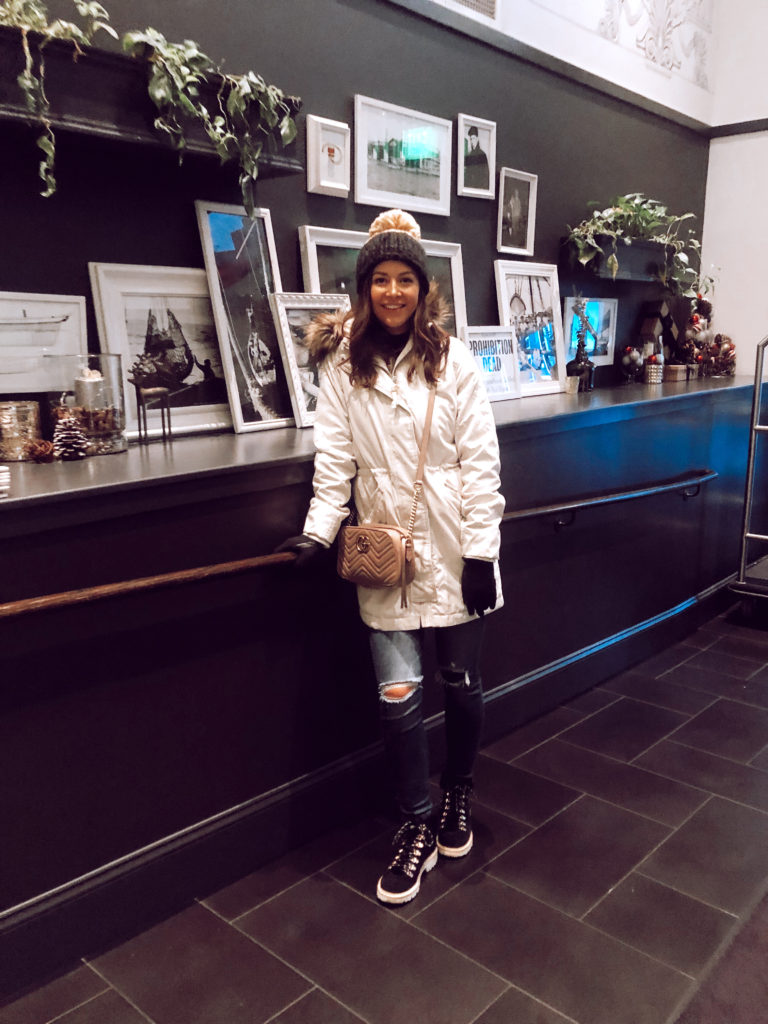 What I Wore Around Seattle
Friday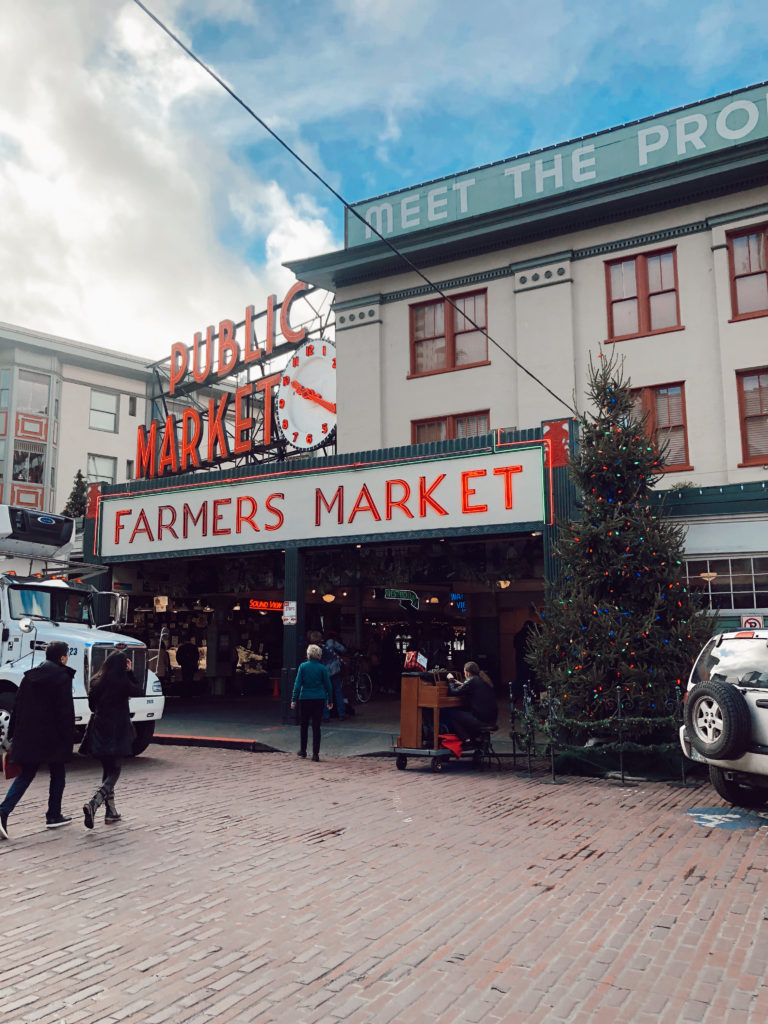 Pike's Place – Of course we started with this! It was like a 5-minute walk from our hotel and we just walked around and explored the market. They had fresh flowers, beautiful local fruits, and hot cider too! I was amazed at how few tourists were there, but it was also off-season (early December)
Storyville Coffee – This place was a recommendation from a friend and it's right above Pike's Place with cool views of the market and bay. Parker & I got coffee and breakfast! I got the oatmeal (soo good) and he got the breakfast sandwich.
Beecher's – Located right next to Pike's Place. They are famous for their cheese & mac n cheese!! There's always a line, so we went for an early lunch and indulged.
Ferry to Bainbridge – After lunch, we walked to the ferry building to catch the ferry to Bainbridge! Tickets were maybe $15 round trip (you only have to buy tickets one-way). It's about a 45-minute ferry ride and the boat is HUGE. Lots of seating and they have a cafe on board too. Get a window seat! The views are great. Once we got to Bainbridge, we just walked around the main road, shopped, got another coffee, and explored the neighborhoods a little. There isn't much to do here, but it was cool to get out of the city and experience another part of the Seattle area.
Dinner – I don't remember where we got dinner, but we ate once we got back to Seattle at a Vietnamese place near our hotel. It was good but wasn't amazing lol
Salt and Straw – THE BEST ICE CREAM. I wish we had one in Phoenix. We walked up to Capitol Hill (about 20-25 min from our hotel) and stood in line for another 15 min. So worth it.
Alibi Room – After ice cream, we walked back down the hill to get drinks with one of Parker's friends who was also in town at Alibi (it's in the famous alley with all the chewed gum right near Pike's Place). Small bar with good vibes, drinks, and pizza!
We came back to the hotel and warmed up with a bath!
Saturday
Joe Chocolate Co. – Pit stop before lunch, and also right by Pike's Place and within walking distance from our hotel. We had really early lunch reservations, so Parker had an apple for breakfast (if you know you know) and I got a hot chocolate before we walked to find the Pink Door for lunch.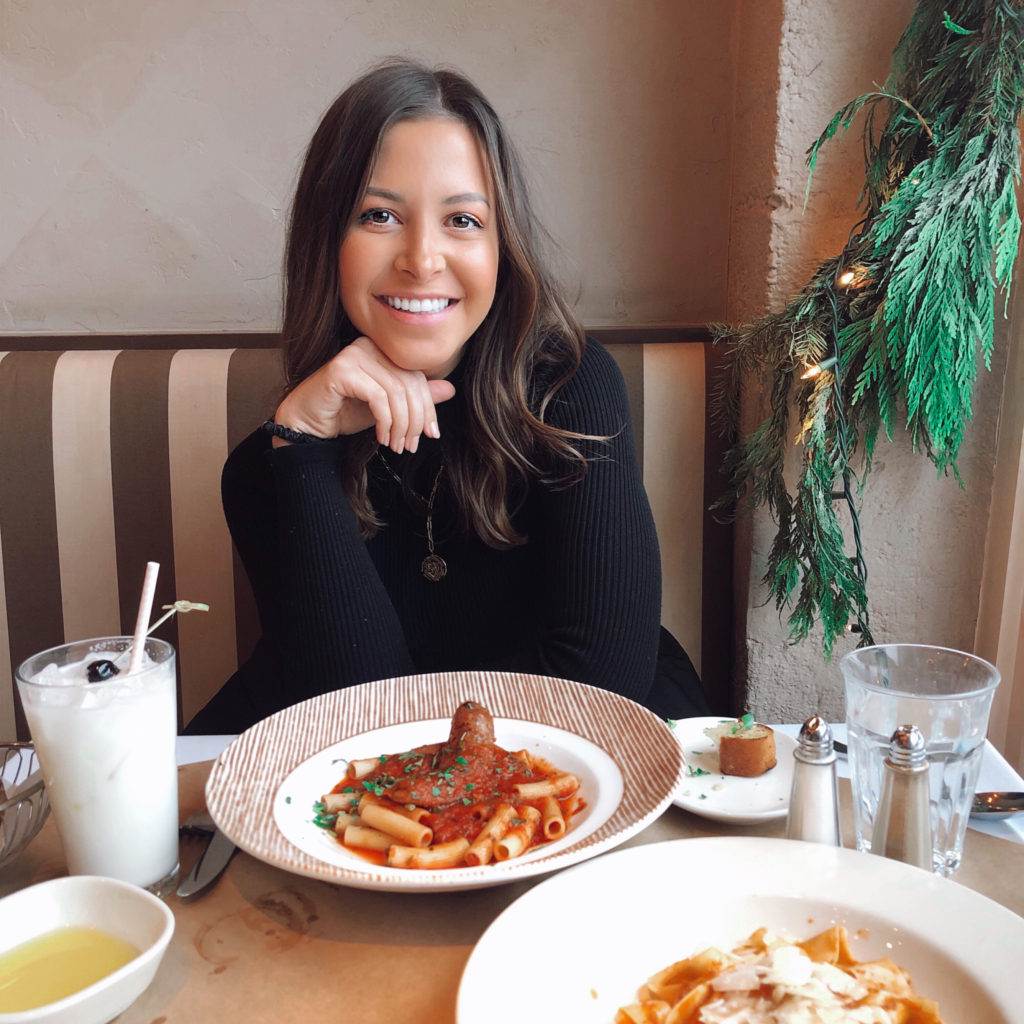 The Pink Door – GET RESERVATIONS EARLY!! We tried to get a reservation about one-week out, and we were only able to get the earliest time slot (11:30 am) on a Saturday. The food is AMAZING and they have live entertainment (think dancers, trapeze artists) during dinner reservations, so they go quickly. We got a table with views of the bay and started with the mussels as an appetizer, then split the bolognese, rigatoni & sausage, and salmon pasta. I also got an Italian soda (my fave), and we split the Chocolate Peppermint Budino (probably seasonal) and it was INCREDIBLE. Highly recommend.
The Gum Wall – A gross, Seattle classic that you just must see for yourself.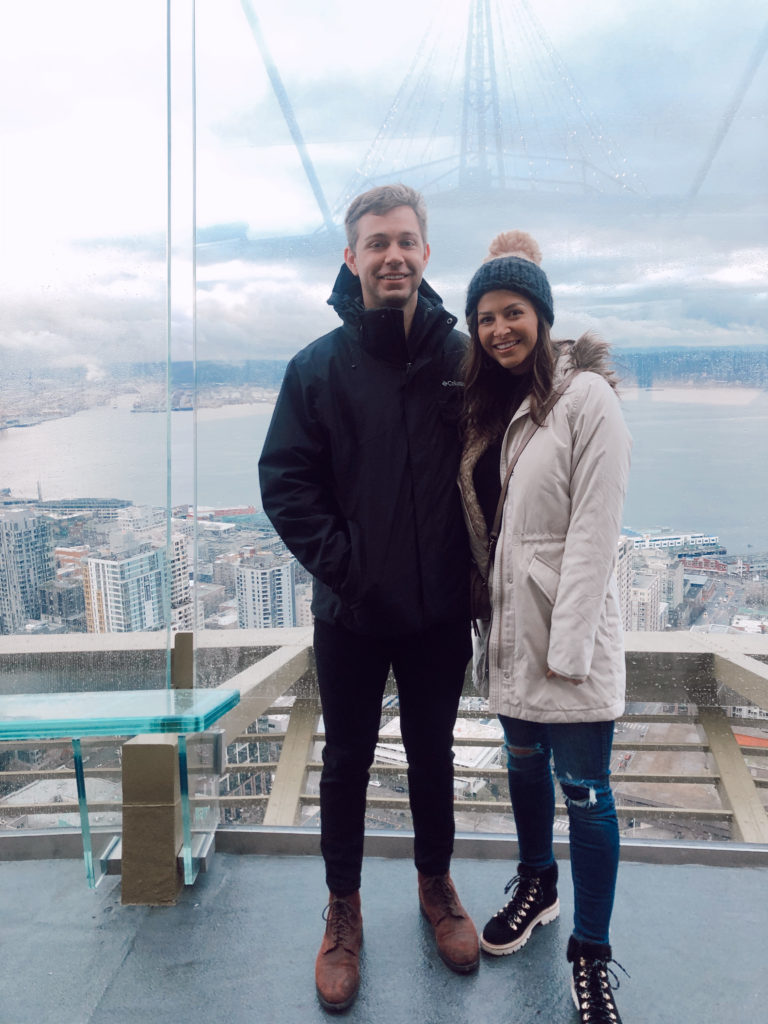 The Space Needle – Since we wore fancier clothes for The Pink Door, we walked back to our hotel and changed to walking shoes and warmer jackets before we walked to the Space Needle (about a 20 min walk from our hotel). We got our tickets ahead of time online ($35) and didn't have to wait in line to go up. The views of the city are beautiful, but I wasn't a fan of the clear revolving floors on the lower level and discovered that I am afraid of heights haha
Poquito – For dinner, we walked get Mexican food in Capitol Hill (25 min walk from our hotel) and the interior of this place is so cool. Parker got the tacos and I got the enchiladas. We both got margs, of course. Awesome restaurant with good food.
The Nest – Rooftop bar with views of the bay. Funny story…. we ended up going here twice in one night (both before and after the ice skating) because I left my beanie here, so we had to sneak back into the bar after they weren't letting anyone else in and retrieve it lol. Naturally, we stayed for another drink.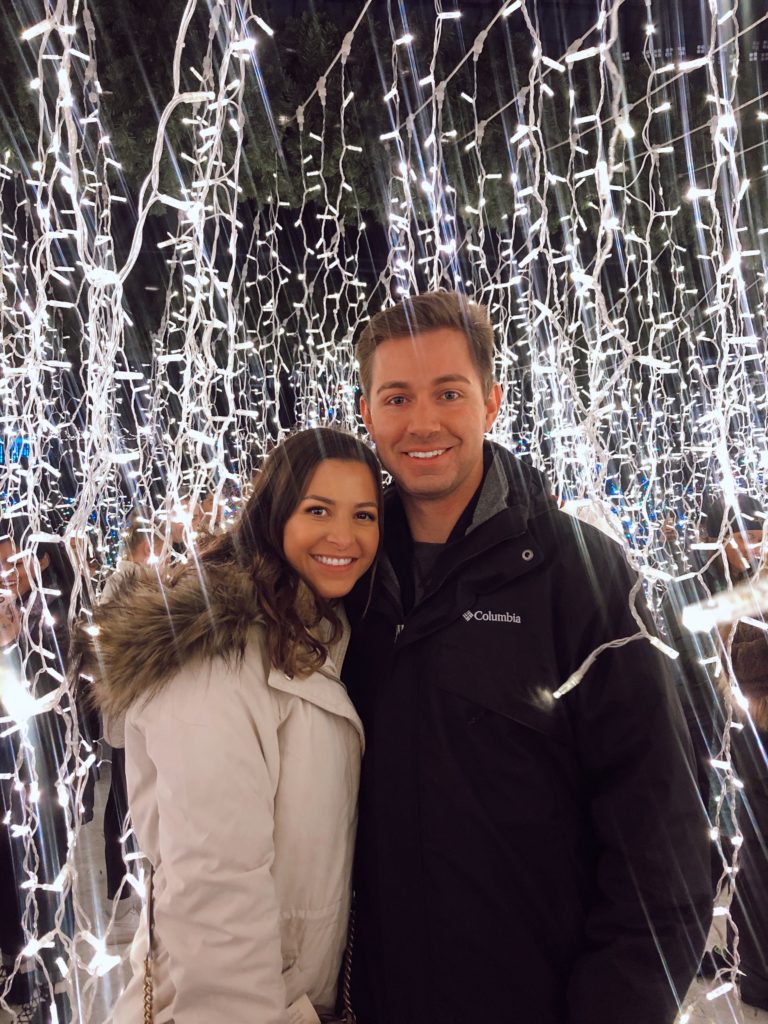 Ice Skating at T-Mobile Park – Soon after we booked our flights to Seattle, I got an IG ad for this ice skating experience called Enchant Christmas. It's basically a huge set up of Christmas lights and decor, plus a maze, set up in T-Mobile Park with an ice skating rink inside. If you're going around Christmas time, you have to check this out! While I loved it, Parker isn't much of an ice skater but he was a good sport and got us hot cocoa and cupcakes.
Sunday
Biscuit Bitch – The Palladian Hotel was located right in between two Biscuit Bitch locations!! Between waiting in line to order and waiting for our food, it probably took us about 45 minutes to get our food but it was SO GOOD. I got the Gritty Scrambled Cheesy Bitch and Parker got the Bitchwich. This place would be the BEST spot for a hangover remedy lol.
Anyways, I can't wait to go back to Seattle sometime soon! While it was great visiting in the off-season and it wasn't too cold/rainy, it would be so fun to come back in the summer months when it's warmer.
Special thanks to the amazing team at the Kimpton Palladian for all their hospitality!
xx,
Becca