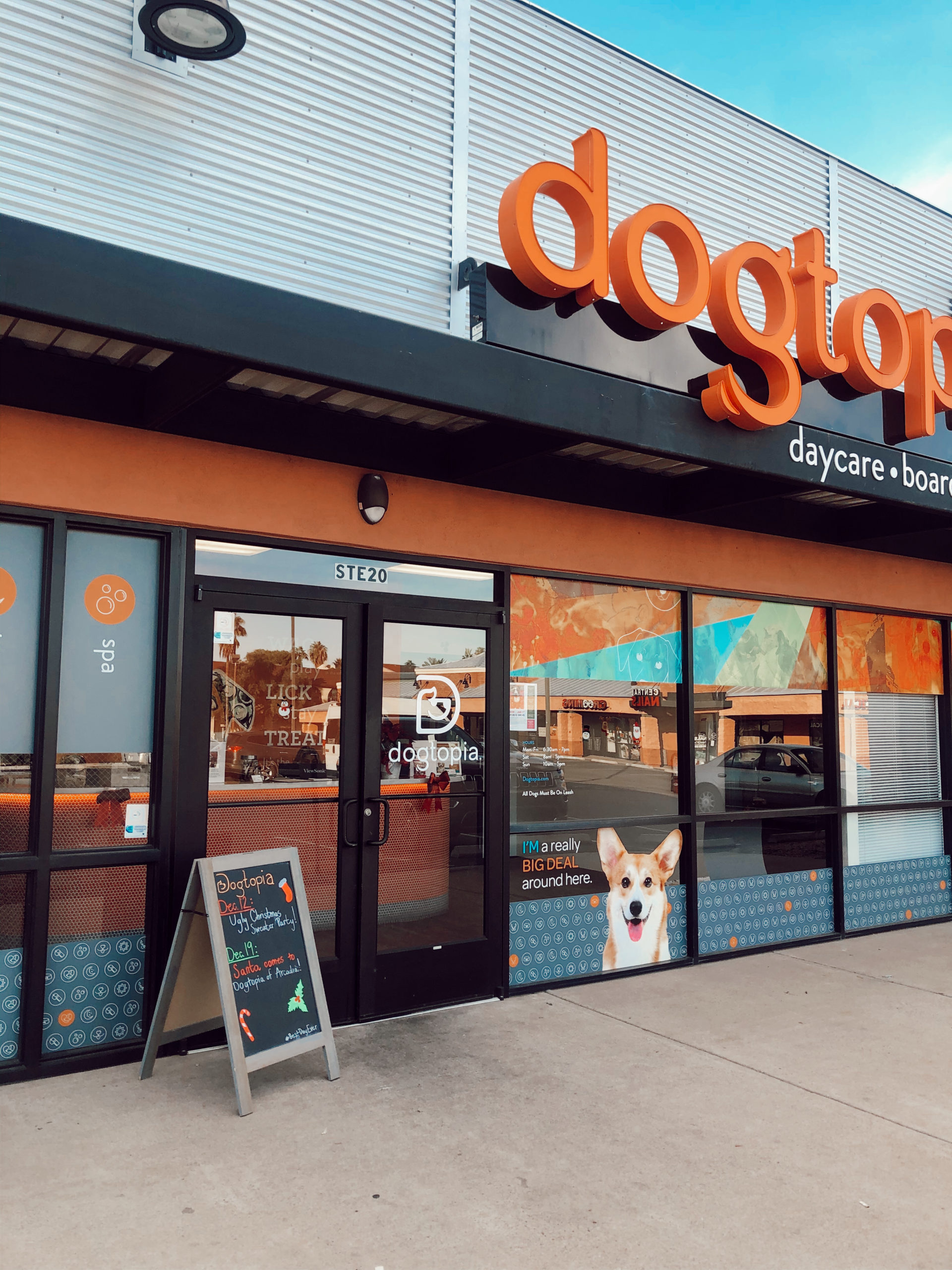 Hi friends (and dog lovers)! Becca & Jojo here wishing you a happy new year!
I've gotten a few questions on what I do with Jojo during the day, and what my favorite options are for doggie daycare. We're lucky in Phoenix because there are TONS of great options, but one of my favorites has been Dogtopia in Arcadia (32nd St & Indian School in Phoenix) for a multitude of reasons.
One of the main things I look for in a dog care center for Jojo is how much she can play while at daycare. She is half cattle dog, so she is definitely a working breed, so when I take her to daycare I want her to come back EXHAUSTED. At Dogtopia, Jojo literally plays all day (with the exception of nap time) and comes back so tired – it's AMAZING. She usually has to rest for an entire day after to fully recover lol. That's how I know it's worth it!!
If you want to take your dog to Dogtopia to try it out, tell them "Jojo Booker" sent you for your first daycare day FREE 🙂 
Here are some other things I love about Dogtopia: 
They Have The Best Hours
During the week, Dogtopia is open from 6:30 am – 7 pm, which is the earliest opening time I've been able to find. This makes it easy if you have an early meeting or want to take a workout class before you head into the office.
Below are their weekend hours, and I know they almost always offer half-off doggie daycare on Saturdays!
| | |
| --- | --- |
| Sat | 8:00 AM – 5:00 PM |
| Sun | 10:00 AM – 5:00 PM |
Webcams To Watch Your Dog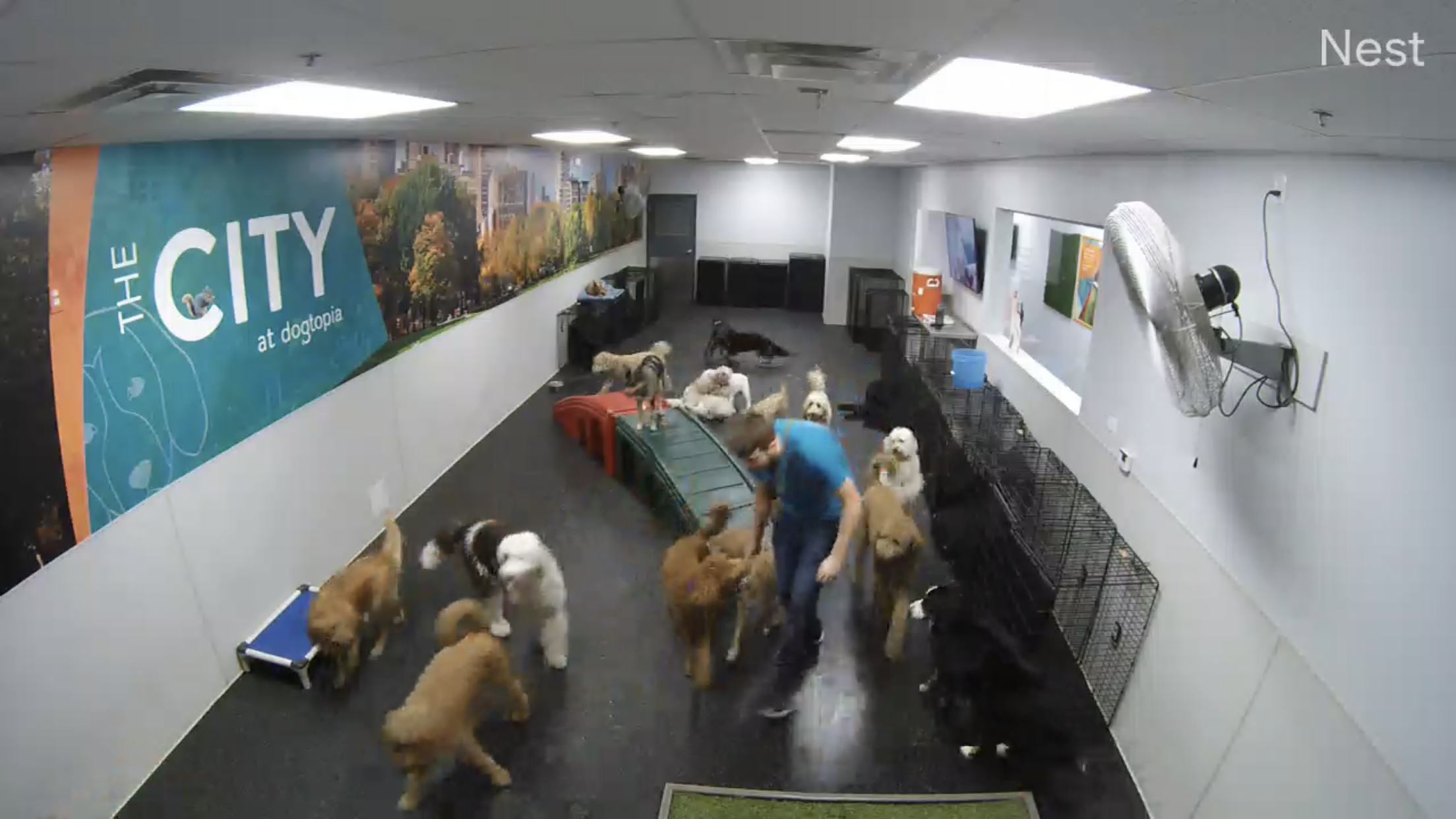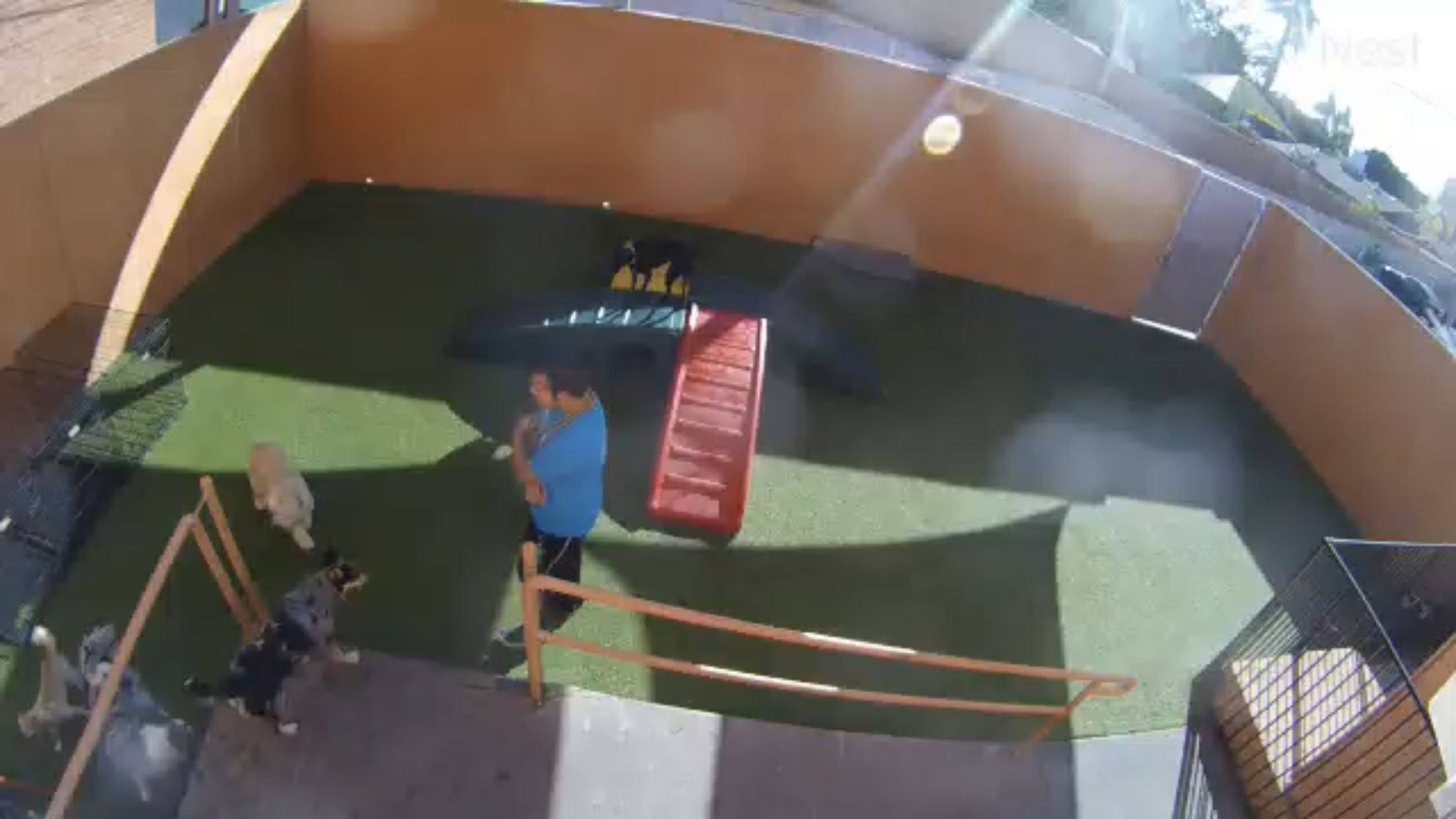 Jojo bottom left in the "barkyard" 🙂
This is by far my favorite thing about Dogtopia!! They have webcams so you can check in on your dog at any point throughout the day (except during nap time). You can log in to their website portal to watch them, or they even have an app so you can check in on your dog from your phone!
Easy Drop Off / Pick Up
Two words: no reservations!!! That means you can easily drop your dog off last-minute when you're in a rush without having to call ahead or make a reservation for them. This is one thing I really don't like about other doggie daycare options.
Another thing that's great about their app is you can let them know you're on your way to drop off your dog, and they'll meet you at your car so you don't even have to go inside! Super easy.
Other Perks of Dogtopia
They have 3 playrooms based on your dog's size & activity level
There's an outdoor area for dogs to play (they sometimes have kiddie pools for the dogs to play in or bob apples)
The indoor floor is padded so it's not hard on their joints
They have nap time from 12-2 pm every day and they even play spa music for the dogs so they can relax
Their staff is honestly so sweet and makes Jojo feel so loved and welcome!
I hope this was helpful for all you Phoenix dog moms & dads! Remember that you can give them Jojo Booker's name (hehe) to get your first day of doggie daycare free!
Enjoy!
xx,
Becca + Jojo