Hi guys! I get so amped for the Sephora sale each year that I figured I might as well share some of my favorite makeup & skincare products with you!
Their sale is valid from 5/2-5/6 and you must be an Insider in order to participate in the sale (anyone can sign up). Here is a breakdown of what discounts you can get depending on which tier you fall into:
Rouge get 20% off purchases in store and online. Use code HEYROUGE
VIB get 15% off purchase in store and online. Use code HEYVIB
Insiders get 10% off. Use code HEYINSIDER
All you have to do to is enter the code at checkout and you'll be good to go! See below for my favorite makeup and skincare items 🙂 and one hair product lol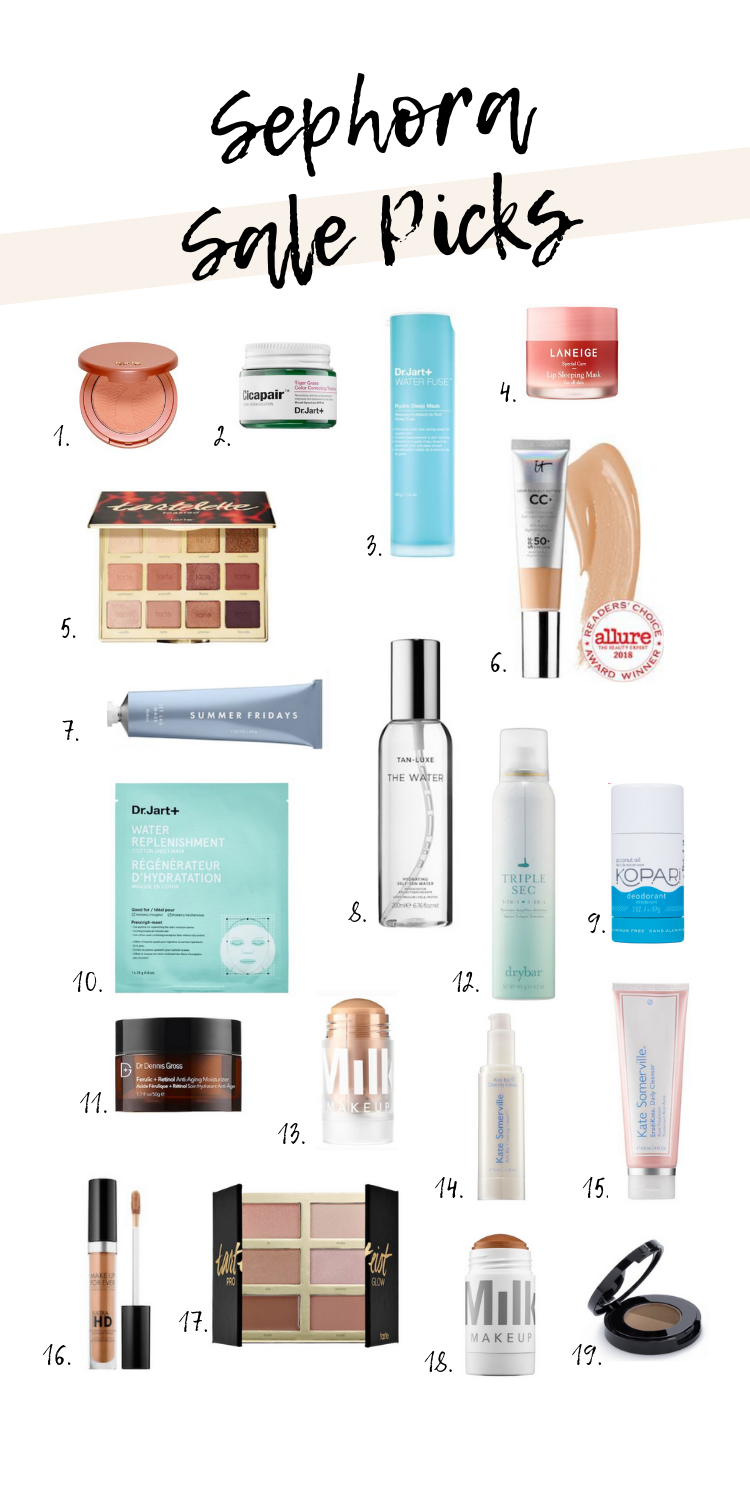 Blush | 2. Color-Correcting Moisturizer | 3. Sleep Mask | 4. Lip Mask | 5. Eyeshadow Palette | 6. CC Cream | 7. Summer Fridays | 8. Self-Tanner | 9. Deodorant | 10. Sheet Mask | 11. PM Moisturizer with Retinol | 12. Hair Volumizing Spray | 13. Primer | 14. Acne Cream | 15. Acne Cleanser | 16. Concealer | 17. Highlighter & Bronzer Palette | 18. Bronzer | 19. Eyebrow Powder
All of these products I've used for basically a year or more – so they're my tried & true faves. My skin is somewhat dry and I prefer to have a dewy-glowy look, so these products will help you achieve that if that's what you're going for.
Enjoy! Let me know if it'd help if I broke down my favorites by skin / makeup/ hair / AM / PM etc. 🙂
xx Becca