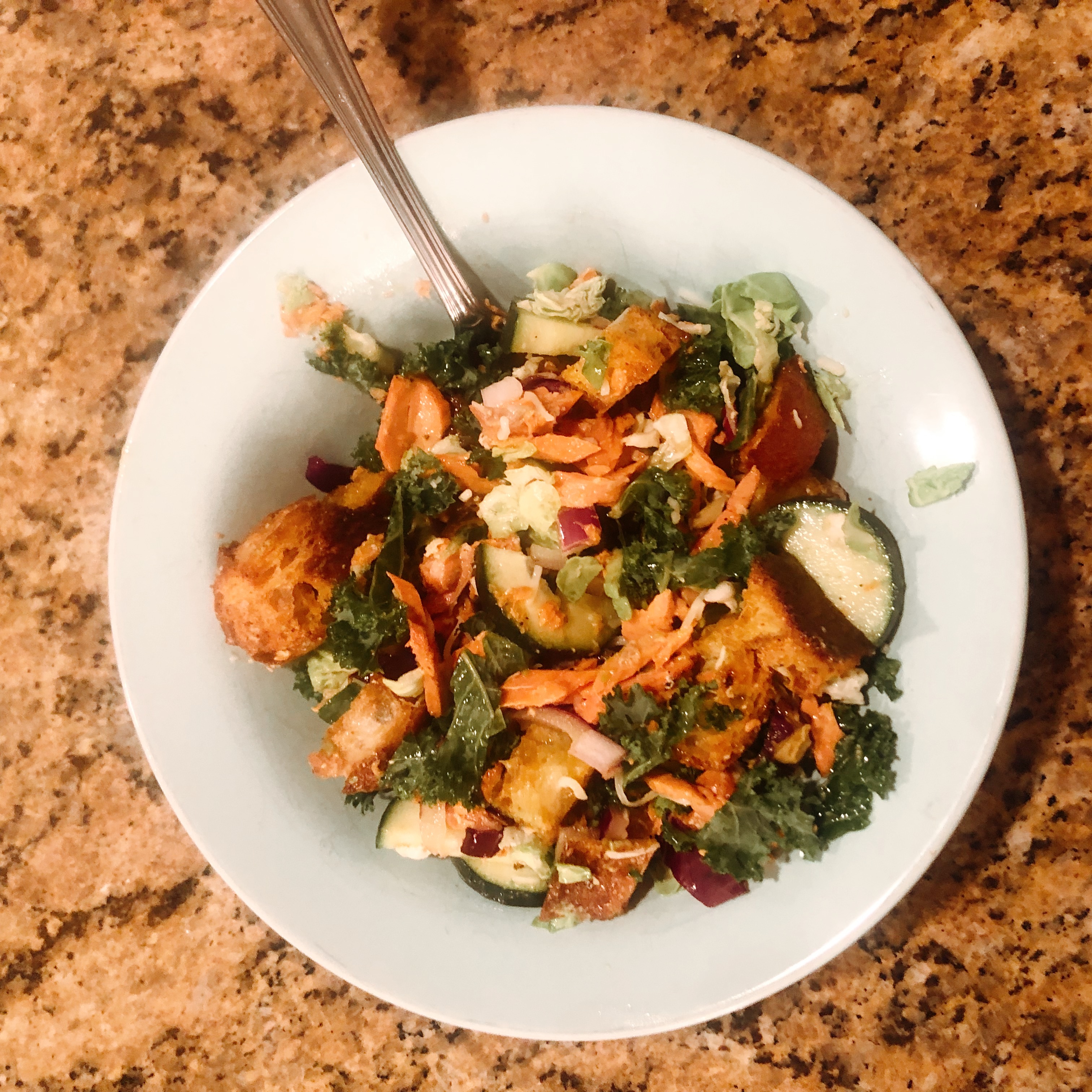 Hey guys!! Happy Wednesday.
I've been sharing my super easy kale & salmon salad recipe on my Instagram Stories and got a lot of questions about it, so I thought I'd finally write up a post with the step by step instructions and all the ingredients linked. It literally takes 10 MINUTES (!!) to make, and requires little prep. I find myself making it a lot during the week because it's so easy and healthy.
See below for the full break down! It's an easy salad to customize since it's a pre-made salad mix, but you'll for sure want to use your own dressing (rather than the one it comes with).
Takes about 10 minutes & serves 1! 
What you'll need (I get all ingredients at Sprouts!):
1/2 bag Kale & Asiago salad mix from Taylor Farms (I throw out the dressing)
1/4-1/3 lbs wild caught salmon
Optional:

1/2 avocado
Red onion
Cucumber
Make your own croutons!
Directions:
Blot the raw salmon with a paper towel to absorb any moisture. Season with salt and pepper
Heat skillet (I use this one!! It's ceramic & non-stick) on medium with a little avocado oil
Place the salmon skin down and pour some of the dressing on top to "marinade". Cook about 6-8 min skin side down, then flip and cook another 2-3 min
Take half of the salad mix and put it in a bigger bowl
Add half the croutons and cheese, and as much of the optional add-ins as you want
De-skin the salmon, flake it, and add it to on top
I'll save the other half (and keep another serving of salmon on hand) for the next day. Enjoy

?
Enjoy! Be sure to tag me in your stories (@bbooks) if you make it!
xx Becca