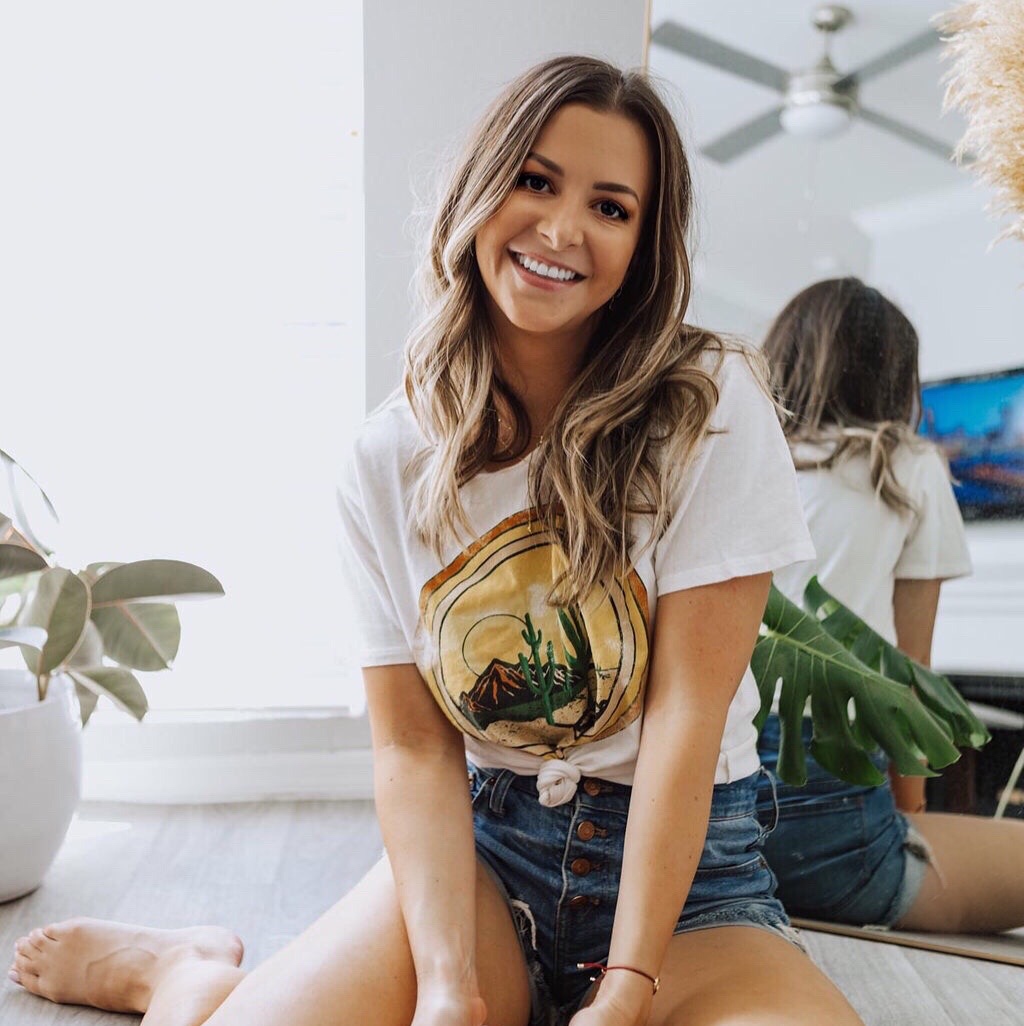 Hey guys! It's finally FALL!! This is my favorite time of the year. The weather finally starts to cool off in Arizona and life seems to slow down a bit before the holidays.
It's been a minute since I've talked about skincare, and I wanted to touch on tips for brightening your skin! It's so much safer to treat dark spots in the winter because one of the main causes of dark spots on our skin is the sun. Plus, many of the treatments that help to treat dark spots require downtime away from sun exposure, so the fall/winter is going to be your best bet to get a more advanced treatment done. We are exposed to the sun every part of the year, but winter the UV index is lower and we are covered up more, so it's the perfect time to treat the damage from summer. It's chemical peel and laser season! 
You guys have heard me say it before and I'll say it again – but I'm obsessed with Zona Med Spa I go to for my skin. I go to Zona Med Spa and I get both their Facial Membership & Dysport Membership.
Here's a quick break down of their memberships:
Dysport Membership – $99/mo:
Two areas of your choice for Dysport, every 4 months.

10% off all services and products throughout the year (For example; additional units of Dysport for other areas, only $3.60 per unit, and saving at least $50 on fillers)

One area of IPL Photofacial**

Your choice of one of the following: Customized Facial, Chemical Peel** or Microdermabrasion

A 3-step Skincare kit
Facial Membership – $69/mo:
Your choice of a

Dermaplane

/

Microderm

,

Fire & Ice Peel

** or

Customized Facial

per month

Complimentary brow or lip wax during chosen treatment

Discounts on Retail Product and Services

20% off retail products at the time of sign up.

10% off products for the remainder of the membership contract

10% off all additional ZONA Skincare treatments (excludes laser and injections)

Birthday Month Perks

During your birthday month receive an upgrade to one the following:

LED Facial**

Dermaplane Facial

Microderm Facial

Perk Facial with eye or lip treatment
**indicates treatment that helps to treat dark spots!
So between these two memberships, I get plenty of opportunities to treat dark spots. More on that below, in addition to a few other ways to treat dark spots at home!
1. Chemical Peels
Chemical peels are one of my favorite ways to treat dark spots because of their minimal downtime. They give me tighter, smoother, and brighter looking skin, and my skin will usually flake a *little* bit like 2-3 days after the peel, but it's nothing crazy. The peels usually use salicylic acid as a base to exfoliate the uppermost layer of skin. Plus, they're great for treating both scarring or photodamage (aka brown spots).
A series of 4-6 treatments is best for chemical peel facials! Chemical peels vary by strength and recovery time.
2. Photo Facials
Photo facials are another great way to treat dark spots, and doing these facials in the winter will help prolong your results. The laser is attracted to pigment, so it's important that you don't have any self-tanner on when you head in for a photo facial. After the treatment, the areas treated will get a few shades darker and will slough off naturally over 2 weeks. You'll almost look like you have faint coffee grounds on your face until they fall off, but you're safe to wear makeup over them in the meantime.
A series of 3 treatments is recommended for photo facials!
3. Pixel Laser Skin Resurfacing
I've only done the Pixel laser once (for a series of 3 treatments) because they are pretty expensive. However, they are SO worth it. I did these facials last winter, and you will kind of be in pain after lol. It will feel like your skin is really tight and sunburnt, and then over the course of 5 days your skin will flake and peel off – but your skin will be SO clear, luminous, and bright.
The laser creates thousands of microscopic perforations which allows the top layer of the skin to heal, and it counteracts years of sun damage, improves tone and texture (this was a huge improvement for me), smooths fine lines and wrinkles, shrinks appearance of pores (also a win for me), and blends uneven pigmentation.
Recovery time ranges 3-7 days for Pixel Laser Skin Resurfacing treatments.
4. At Home Ingredients/Products To Treat Dark Spots
Sunscreen & Sun Protection
Start by preventing dark spots at the source! Each morning, make sure you apply at least SPF 50 (and bonus points if your foundation also has SPF!) to your face, neck, and chest (and really any part of your body that will be exposed to the sun).
Throughout the day you'll want to reapply SPF every 2 hours if possible. If you're like me, I only typically go outside at lunch and after work, so I'll swipe this handy powdered SPF across my face, neck, and chest before I head out. It's great because it acts similarly to a setting powder and doesn't mess up my makeup!
If you are going to be spending significant time in the sun, ALWAYS wear a white-brimmed hat or visor (that way it can also shade your chest/shoulders) and wear sunglasses with UV protection.
I use this daily SPF lotion and this SPF powder.
Vitamin C
One of Vitamin C's biggest uses is for reducing scars, spots, and other hyperpigmentation. Plus, it's one of the more affordable ingredients that reduces pigmentation over time. Below are a few of my favorite products that have Vitamin C!
Hydroquinone
The *golden* staple ingredient for brightening your skin: hydroquinone!! It treats melanoma, helps to lighten brown spots, and improves your overall complexion. It's a bit more expensive than Vitamin C, but if you really want to brighten your skin it's definitely worth it.
I'd recommend Image Skincare Iluma Intense Brightening Serum!
Hope these products and treatments help you to treat dark spots! Feel free to DM me at @bbooks or Zona Med Spa @zonamedspa (they're the experts!) with any other questions.
For more skincare tips from my blog, click here.