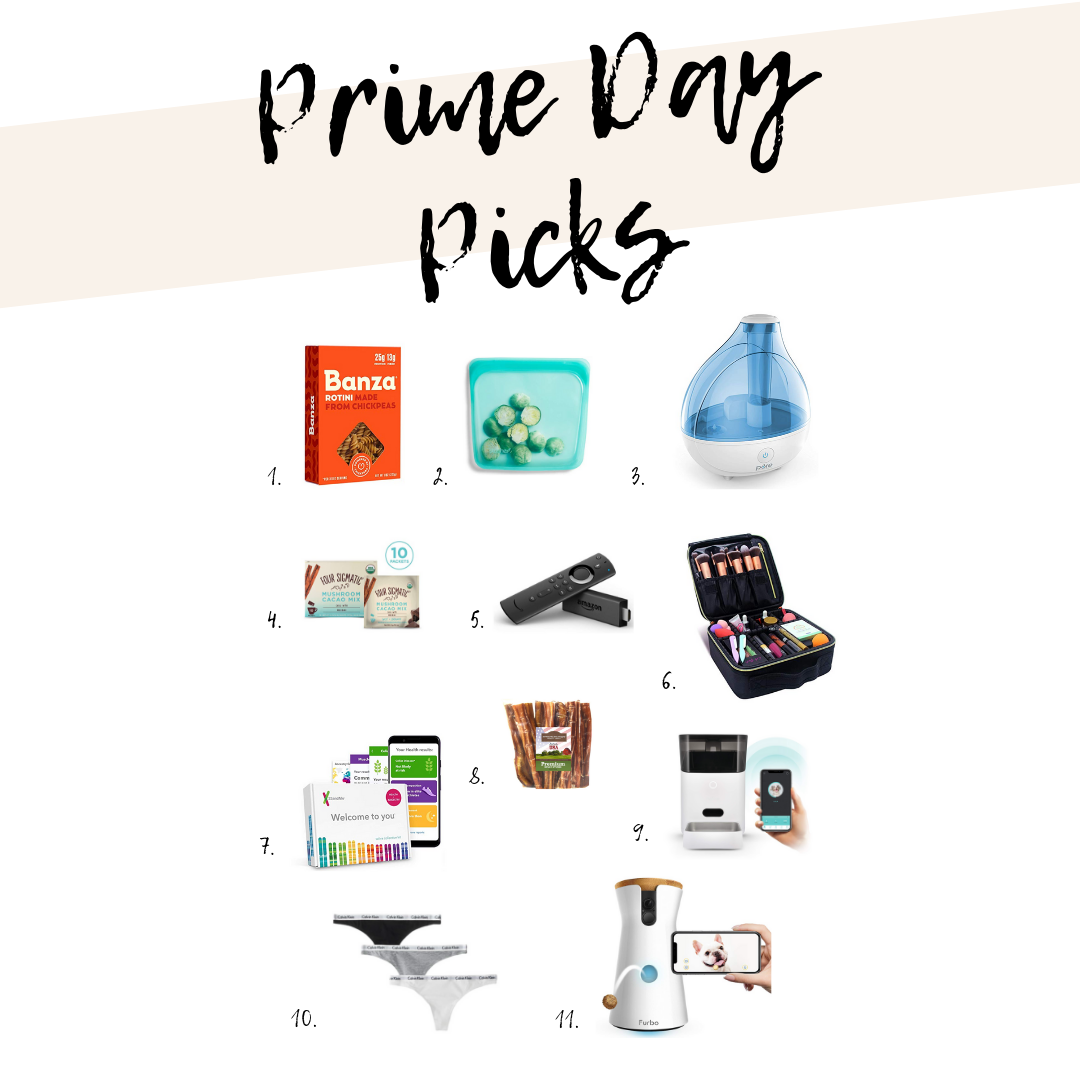 Happy Prime Day! I just put together a quick post of some of my favorite items I've found on sale (the sale lasts 7/15-7/16). This year I'm stocking up on some of my favorites, and also trying some new stuff out (like the makeup case!!). See below for my picks, and happy shopping!
1. Banza Pasta – it's gluten free and has 25g of protein and 13g of fiber per serving!!
2. Stasher Bags – I use these reusable silicon bags for EVERYTHING. They are so handy and are dishwasher and microwave safe. I have them in almost every size!
3. Humidifier – This humidifier saves my life in the dry summer months here! I also sleep with a ceiling fan on (who doesn't in AZ?) which dries out my skin even more, so this helps to keep my skin glowy and dewy in the summer.
4. Four Sigmatic Mushroom Cacao Mix – This is a healthier, super-food-filled take on hot cocoa and will help you relax before bedtime. It's a great non-sweet treat that fixes my sweet tooth cravings!
5. Amazon Fire Stick – Normally, $39, it's on sale for $14.99!!! I just bought one for our living room to replace our Roku stick.
6. Makeup Case – this is the makeup case that Amber Fillerup recommended once and made $12,000 off of the affiliate income alone!! It's adjustable, durable, and will hold ALL my skincare AND makeup lol.
7. 23andMe – I got this test for Christmas and I seriously think it's so cool. I got the test that tells you your ancestry and your health predispositions and carrier status for various diseases.
8. Bully Sticks for Jojo 🙂 these are unscented and keep her busy for hours!!
9. Dog Food Dispenser – SO cool, right?! You set a schedule for feeding your pet on the app and it will feed your pet at those times. So handy if you're running late!
10. Underwear LOL – Calvin Klein underwear is my FAVORITE. I normally buy it at Nordstrom Rack but it's cheaper for Prime Day!! Only $20.99 for 3 pairs. I buy them every year!!
11. Furbo Cam – Another fun gift for dog moms and dads, but I think I'm going to wait until Christmas for this one because I don't trust Jojo enough to leave her home alone if she's not in her crate LOL. It's $139 and normally $199!!