So I spent the past 6 months on the prescription Accutane to help dry out my acne. It was pretty rough, but I was really lucky that I didn't have any of the intense side effects that a lot of other people experience on it. However, one of the most common side effects of the drug is dry skin (or dry everything, for that matter).
I basically tried everything to get my dry skin moisturized. Chapped lips were the worst part! I put together a list of my favorite products I used to keep my skin moisturized on Accutane. Hope these help!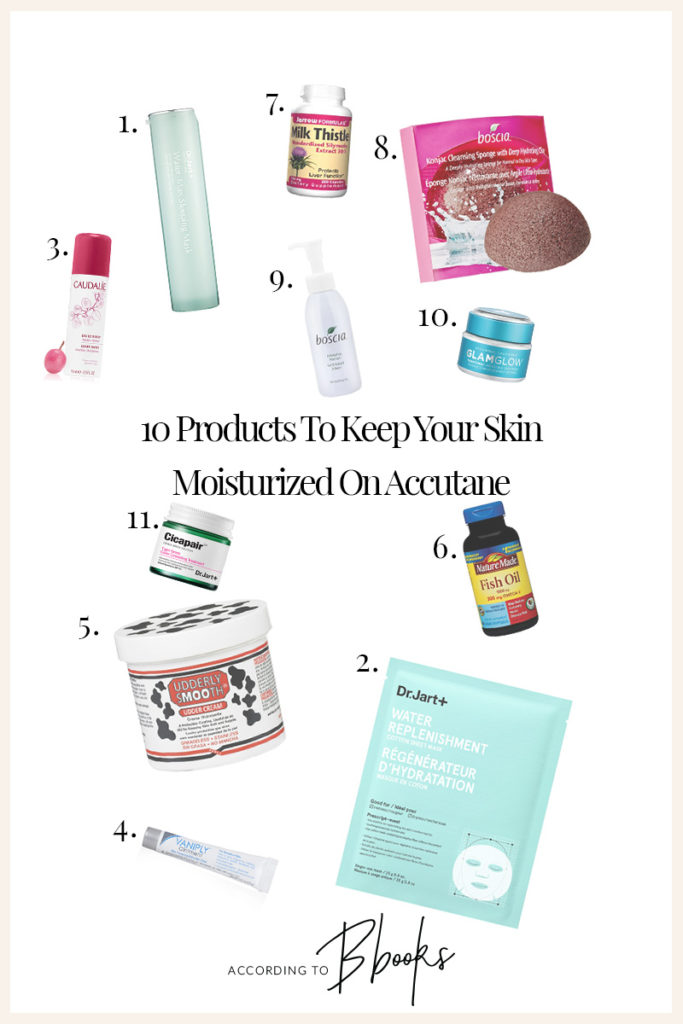 1.Dr. Jart Sleeping Mask  2. Dr. Jart Water Replenishment Sheet Mask 3. Caudalie Grape Water Face Spray 4. Vaniply Ointment 5. Utterly Smooth Body Cream 6. Fish Oil Pills 7. Milk Thistle Pills 8. Boscia Konjac Cleansing Sponge With Deep Hydrating Clay 9. Boscia Exfoliating Peel Gel 10. Glam Glow Hydrating Mask 11. Dr. Jart+ Cicapair Tiger Grass Color Correcting Cream with SPF 30

I also did a little review of each item below so you can know exactly why I love it and see if it would be a good fit for your experience. Hope this helps!
If you're going to buy any of these products, this is the one. It takes the term "beauty sleep" to the next level – you just put it on a clean face before you to go bed and wash it off in the morning. I'm obsessed with hyaluronic acid products lately and this is great.
Ok so I probably got a little addicted to Dr. Jart lol. But this one is a good one too! I would do this once a week before I went to bed and would rub the access mask on my neck and chest. Dr. Jart is a leader in K Beauty right now – and for a good reason!
This was a lifesaver on long work days. I kept it in my purse and would spray it throughout the day whenever I was feeling particularly dry. I also would use it to wet my beauty blender (foundation applicator) in the morning when I put on my make up! It's also great for after an intense facial or harsh peel. The grape water is perfect for sensitive skin and helps the skin to retain water.
I thought that Aquaphor (chapstick) was good until I tried this.I would also put this up my nose (gross, I know) because the inside of my nose got really dry too.  SO much better and less oily than Aquaphor. Plus, it's cheap.
One of my co-workers recommended this to me when my hands started getting really dry. Apparently this was originally used on cows when their utters were dry & chapped LOL – but it works wonders on dry hands. I had been using coconut oil and Cetaphil on my hands but they weren't working. This moisturized them (and got rid of the flakes) in like 2 or 3 days! My hands were literally soft LIKE A BABY to the point where people would compliment them. I still use this everyday!
Start adding these to your diet, even if you aren't on Accutane! The "good" fats in fish oil are not only great for helping with moisturization, but also help keep your brain in check too! I take two a day 🙂
I didn't introduce these into my regimen until like the last month and a half of my Accutane treatment, but these are great because they help cleanse your liver (Accutane is really hard on the liver). Plus, it's great for avoiding hangovers too! Since you technically shouldn't drink while on Accutane, this is important. I would take one a day, but sometimes two if I planned on having a drink that day lol.
At first I thought this was a waste of a purchase (the lady at Sephora recommended it to me), but in those first few weeks on Accutane when my skin was literally just flaking off, this was the only thing that could gently remove the excess skin. SUCH a lifesaver, just make sure you replace it every month or so because your cell turnover rate is going to be so high.
Another great, gentle exfoliating product! Since you can't use any exfoliators with beads while on Accutane, I needed something super super gentle. This gel is so cool – you massage it onto your face when your face is dry. As you rub the gel around, it magically grabs all the flakes and dead skin cells on your face and clumps them into little balls. It's so hard to describe, but you just wash it off and your skin is so smooth!
I was pissed I didn't discover this until the end of my course! This is kind of pricey though, so maybe that's a good thing lol. At night, I put this just on dry spots on my face, then I put on my Sleeping Mask on top of it and sleep away.
Can you guys tell I love Dr. Jart?? lol. This is an amazing daytime moisturizer that is GREEN. Yes, GREEN. The color in the cream cancels out any redness you may have and blends to be a natural, skin-toned color. It's amazing and has SPF 30 which is super important on Accutane because your skin will become more sensitive to the sun.
Hope these products help! I understand that going on Accutane is NOT an easy decision and some friends and family might not be supportive of your decision.
Always remember that you're doing this for you, your happiness, and your self-confidence. To be added to my newsletter list for more tips like this, click here. Best of luck on your life-changing skin journey!! xx – bbooks