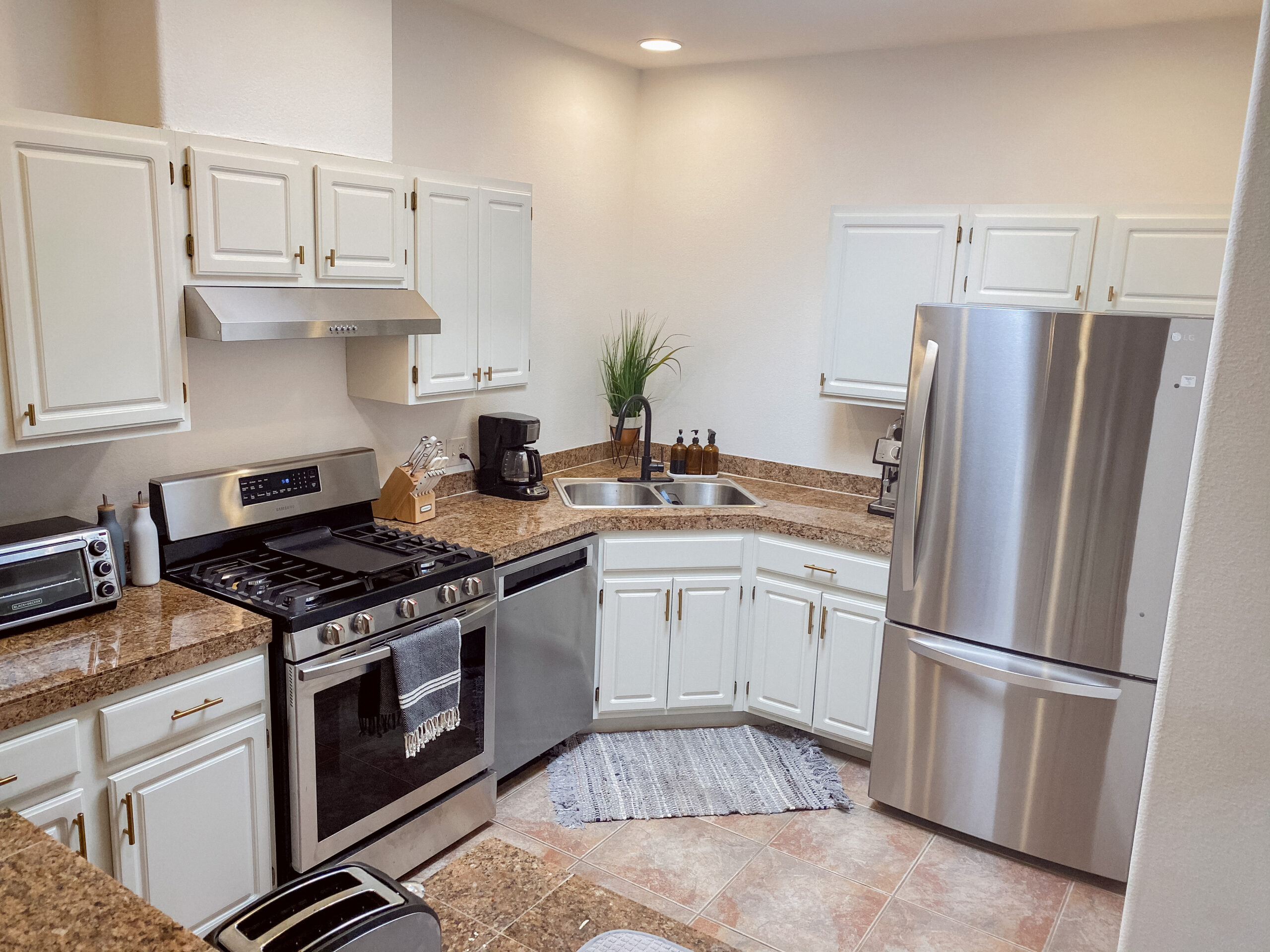 Hey guys! I'm sooooo happy with how my kitchen is coming along! I'll include some photos of how my kitchen looked when I bought my condo in January of 2020, but just the small improvements I've made to it so far have made a night-and-day difference!
In the last month, I had my cabinets painted and updated the appliances! When I moved in, I also updated the sink, faucet, and dishwasher. Both were relatively easy, but it took me a while to find a fridge I liked that fit my space.
*Note: everything is linked at the very bottom of this post!*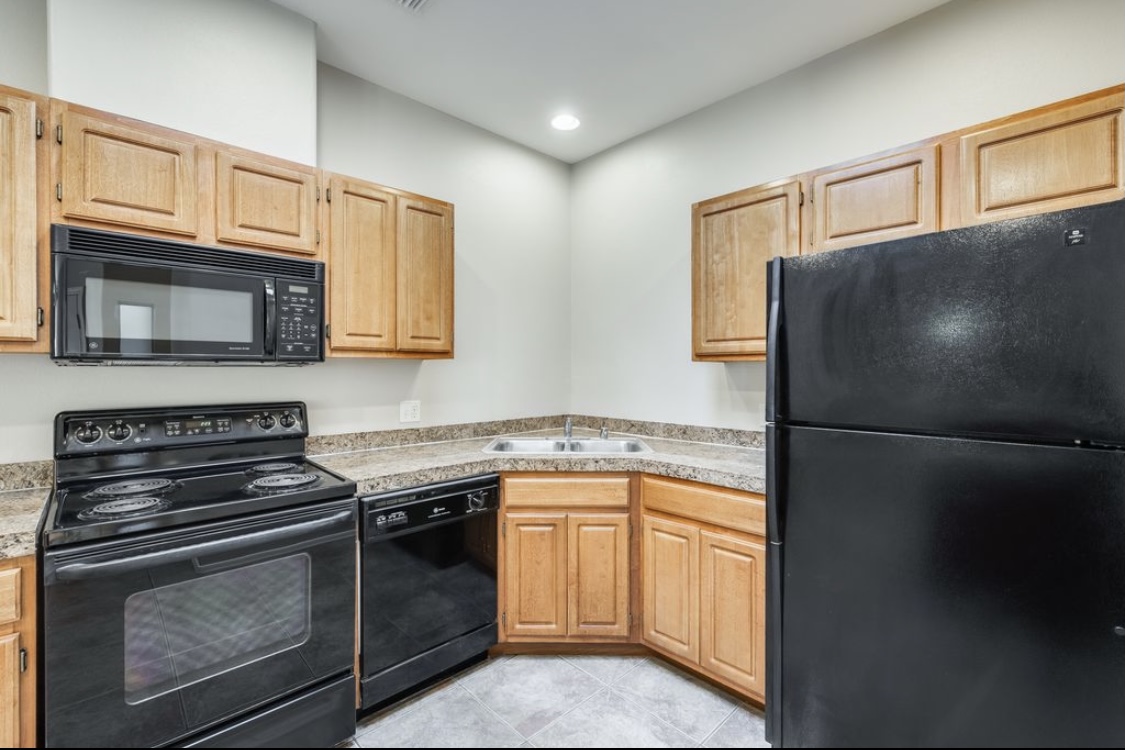 Cabinet Painting
Ok so I got SO MANY QUESTIONS about who did my paint. It was only $753 for everything – the paint, prep, labor, and installing hardware.
The guy I used a random Painter named Mark who does cabinet painting on the side. He came recommended by a friend! He doesn't have a website but his phone number is 602-829-5309.
Why Didn't I Replace The Cabinets All Together? 
I also considered completely replacing my cabinets so that I could rework the layout of my kitchen a little and also add a pantry, but after all the cabinet expenses and the labor to take out my current cabinets and install the new ones, it would probably be AT LEAST $9k. I decided that since my condo isn't going to be my "forever" home, it really wasn't worth it for me to put this much into my kitchen when the current cabinets were already in great shape.
Hardware
I decided to go with super affordable hardware that I got off of Amazon. Again, my condo isn't going to be my "forever" home, so I went with a simple design that I liked in favor of affordability.
Hardware: $53 linked here and here.
Paint Color
Sherwin Williams Aesthetic White! Linked here.
I hired a guy to paint the cabinets (more info below in cost breakdown) and it took him about a half day to prep everything and take the doors off their hinges, and then a full day to paint and put them back on.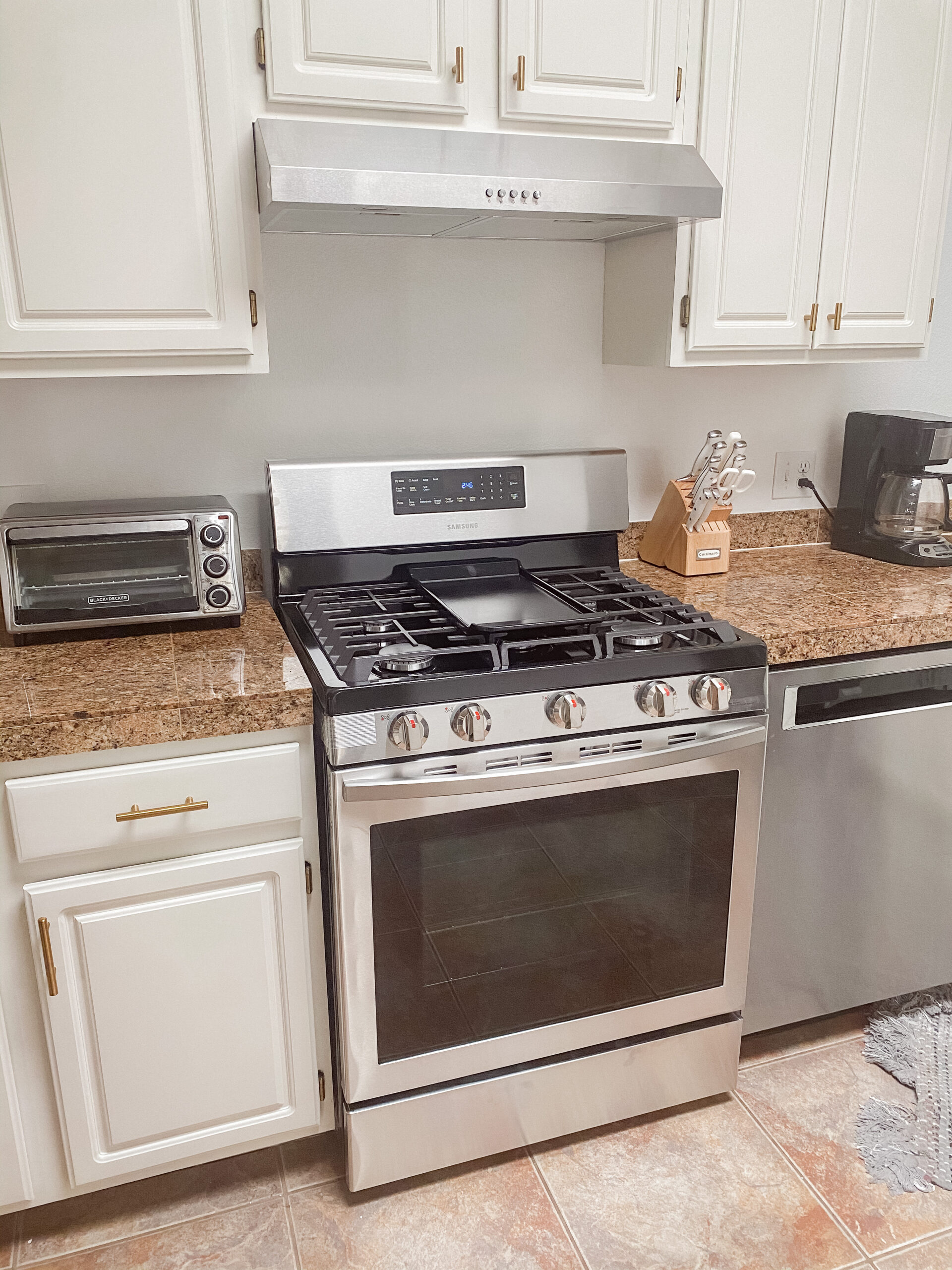 Appliance Updates
I did my research, and some of the best appliance deals happen over Labor Day weekend! I was able to get my fridge and stove both at 30% off. Because of COVID shipping delays, the appliances took about 6-8 weeks to be delivered lol. So thank god I wasn't in a rush!
Fridge
Guys, I'm obsessed with my fridge lol. I struggled to find a fridge I liked that worked with the kitchen space. For example, the fridge had to fit under the cabinet above it, and I couldn't do a French (double) door fridge because the wall directly to the fridge's right would prevent the internal drawers from being able to open all the way.
I went with this one from LG that has an ice maker (the future is here!!!!! lol) and the shelves in the door have a special type of film on them that prevents things from sliding around when you open and close the door. It's also so much bigger and roomier than our old fridge. It's amazing.
Stove
Thought about getting a "flat" stove, but the one I was looking at was $200 more. When I finally went to buy it, it had sold out! So I took that as a sign and got the cheaper stove with the screen on the backboard or whatever it is called lol.
Also, switching from an electric to a gas range is LIFE-CHANGING. Things heat up and cook so much faster. The middle griddle is an amazing feature too! I can make so many pancakes and quesadillas at one time.
Stove Install: $150
Hood
Not much to stay here, except you'll notice I didn't add a microwave to my updated kitchen! I kind of hate microwaves lol, they gross me out. So we demoted our microwave to the garage and added a range above the stove instead. The design is so much cleaner.
I was able to install the range myself! Maybe took me an hour.
Expenses:
Cabinet Paint & labor: $700
Cabinet Hardware: $53
Fridge + install:

$

1,327.31 (got it 30% off)
Stove: $726.99 (got it 30% off)
Stove install: $150 (had to have an on/off valve added to my gasoline line)
Range Hood: $134.63
Total: $3,091.93
The only other expense I didn't add to this is the cost of the wall paint! That's because I had my entire house painted right before I moved in for $2,000 total, so it wasn't a kitchen-specific expense.
Here's what else I'd still like to do:
Change countertops – thinking white quartz
Add backsplash – thinking this tile by Bedrosians
Add floating shelves behind the sink
Level-off the island to one level, possibly expand the island a little
Change floors to vinyl
I'm not in a huge hurry and I'm going to do my best to stretch my budget for the rest, which I know will be a challenge! But I'll be sure to do more posts about the kitchen and fill you in as I make updates!
xx
Becca