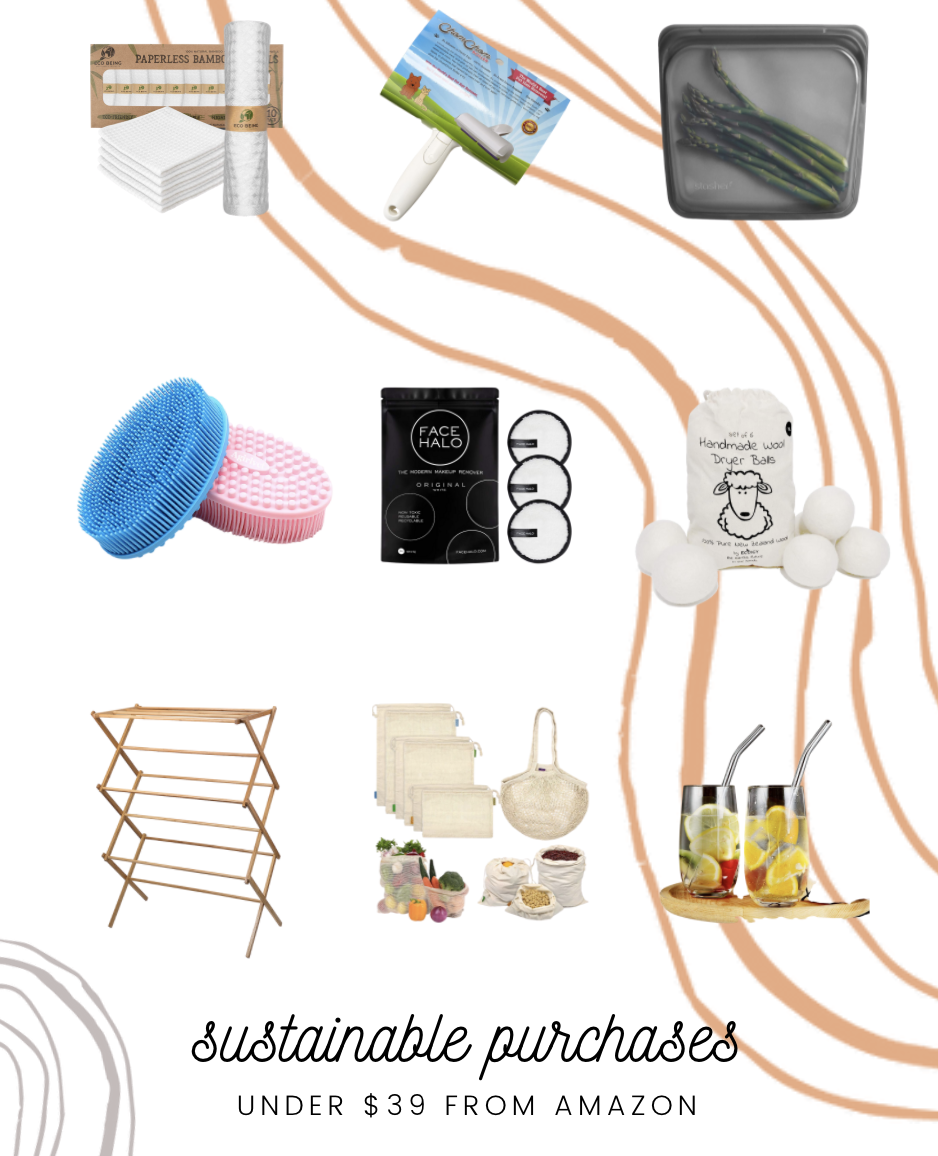 Let's talk sustainability!! It seems kind of contradictory to do a blog post about my favorite sustainable purchases from Amazon but that's a whole other beast haha. Bear with me!
At the beginning of quarantine, I bought some reusable bamboo napkins because finding paper towels was proving to be a challenge. I realized that investing in those ($16 for 10) was basically the same price as buying one bundle of paper towels, but the napkins were going to last me for years!
This inspired me to invest in a few more sustainable Amazon purchases and I wanted to share. Everything on the list is between $8-39
These are the coolest thing!! They replace dryer sheets (which are bad for the pH of your vagine anywaysss) and are reusable for up to 1000 loads! They're biodegradable, eliminate waste, and they reduce drying time by 20-40% and extend the life of your clothing.
Other benefits: anti-static, reduces wrinkles, static cling & lint
Hack: Put a couple of drops of your fave essential oil (I use lavender) on the balls before putting them the dryer and your house and clothes will smell amazing!
Price: $8 for 6
Hopefully, you've already hopped on the reusable straw trend! It's an easy and affordable way to reduce your waste.
I love glass straws because they're clear so you can tell if they're clean (!!) which can be a pain with straws. These straws also come with a cleaner and are dishwasher safe. They're safe with hot liquids too!
Price: $9 for 8 (4 are straight and 4 have a bend)
I am SO over Ziplocks! They're just another single-use plastic that you throw out after each use. I found out about Stasher bags through Instagram and I now own 6! They're reusable, silicon bags that are self-sealing. Sometimes when you're storing food, you don't want to use bulky Tupperware or you want to be able to throw something small in your purse and this is when a Stashable bag comes in handy. I mainly own the sandwich and snack size bags!
Other Pros: They're BPA and latex-free, dishwasher and microwave safe, and they're safe for up to 400 degrees!
Price: Varies (sandwich-sized bags are $12)
Bring your own grocery bags to the store! I hope you already have a reusable bag like this in some form, but this variety pack is great because it has bags for fruit veggies, and bulk items as well (like nuts or oats). They're machine washable and can eliminate up to 1000 plastic bags over their lifetime!
Price: $16 for a mix of produce & grocery bags
These napkins are made from bamboo (which is the fastest growing plant on Earth and requires minimal amounts of water to cultivate a mature crop) and we keep them in the drawer next to our eating utensils. 
You can use them as washcloths, napkins, or kitchen towels, but I've found they're simply best as napkins. They're machine washable and are much more absorbent than a typical napkin or paper towel.
Price: $16 for 10
This is the one thing on this list I haven't bought yet because I just bought a standard loofah a week before I knew these existed! They can be used for up to 2.5 years, as opposed to a regular loofah that is only good for 3 months! It's also much easier to clean and isn't prone like traditional loofahs to bacteria and mites.
Price: $14.99 for 2
Did you know that single-use makeup wipes (and things like Clorox & baby wipes) take up to 100 years to disintegrate?! Shook. I bought these Face Halo reusable makeup wipes a couple of years ago and they have lasted me this long! They're two-sided microfiber cloths that will allow you to even remove mascara with just water! They replace up to 500 single-use makeup wipes and are machine washable up to 200 times.
Price: $22 for 3
If you have a dog or pet that sheds, you NEED the Chom Chom. Unfortunately, it is made of plastic, but it replaces lint rollers! So you won't have to buy sticky tapes or adhesive paper again. The roller can be reused over and over again.
Price: $25
Saving the best for last – a bamboo drying rack for your clothes! As mentioned with the reusable napkins, bamboo requires little water to grow so it's one of the most sustainable sturdy materials.
I liked this one in particular because it both folds up, fits a decent amount of clothes, and doesn't look super janky like some other drying racks. We use it to dry the majority of our clothes (especially workout clothes, jeans, and synthetic fabrics) to not only save our clothes but to save some money on our energy bill.
The summer in Phoenix gets sooo hot, so I might as well take advantage of the heat outside to dry my clothes. That way my dryer doesn't have to heat up my house! It's a win-win.
Price: $39
Hope these sustainable Amazon purchases were helpful! You can click each subheading or the widget below to shop.
xx Becca