Let's be real, I loveeeeee a good smoothie. I am such a smoothie junkie that I finally decided to share my smoothie hacks! These tricks will save you time and money when making healthy, nutritious smoothies. Plus, most of these items you already have at home or can order on Amazon for super cheap. Enjoy! xx
1. Put Your Liquids In First
This one might be a given, but I didn't know you should do this so that your solids blends easier. I put about half of my liquids in the blender first when then allows the blades some "wiggle room" to get started so that you can avoid your blender getting jammed.
2. Freeze Some Of Your Milk Blend-Ins
Instead of adding ice cubes to your smoothies (which will make it thicker, but then waters it down), freeze the milk your planning on adding to your smoothies in a silicon ice tray like this one. I like to use unsweetened almond milk, but soy, cashew, and coconut milk work great too! Just stick to the unsweetened flavors. When you're ready to blend, simply halve the amount of liquid you'd use, then pop in a few "milk cubes" to add flavor and to give your smoothie a nice frosty texture.
For my favorite go-to smoothie recipe, click here.
3. Be Smart About Your Ingredients
Are you even a smoothie junky if you haven't read the Body Love book?? I'm obsessed with the author, Kelley. Her recipes and books aren't about trends in diets but are based on science. She recommends incorporating the following components into each smoothie recipe in addition to fruits & veggies:
Fiber – chia or flax seeds
Fat- avocado, coconut oil, nut butters
Greens – spinach, kale, or arugula
Protein – I like collagen protein the best
Tip: You can search her hashtag #Fab4Smoothie on IG and there are tons of smoothie recipe ideas!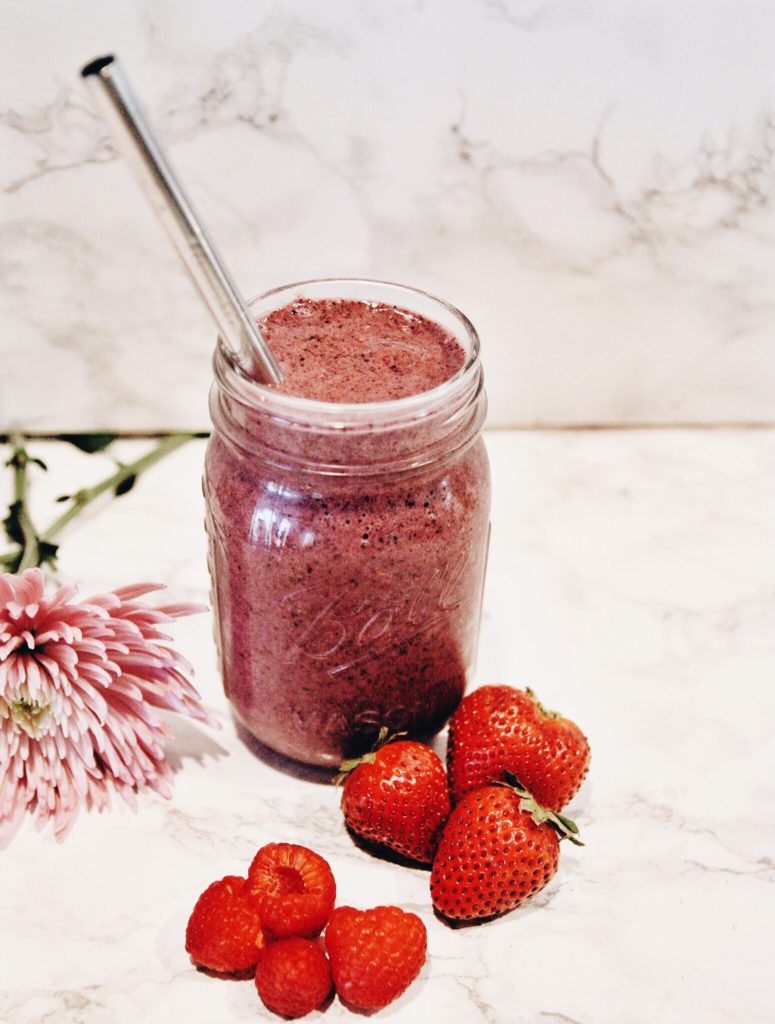 4. Don't Let Fresh Produce Go To Waste
If I have some produce that's about to turn or I'm heading on a vacation and still have fresh produce lying around, I'll chop it (if needed) and freeze it. You can also puree fruits like bananas and berries and freeze for adding into a smoothie later. You can also freeze vegetables like carrots, kale, spinach, etc.
TIP: Find dark leafy greens that are on sale and bulk freeze these for later. I put them in glass containers or Stasher bags.
5. Buy A Great Blender
I noticed a huge difference when I upgraded my blender (I use this one). It's not a Ninja or Vitamix, but it's a great blender for the price you're paying. To clean your blender,  just add hot water and soap, blend for 30 seconds, and rinse with hot water. Boom!
6. Put Extra Smoothie In Silicone Cupcake Holders & Freeze
This is a tip I learned from my mom and you can use this tip in two ways. I bought these reusable silicone cupcake holders a few years ago and I love them. I either fill them with leftover or extra smoothie, or I'll "meal prep" a huge smoothie in advance and pop them in the freezer. When you're making your next smoothie, just throw in one of the "smoothie cups" in with your other ingredients and blend. This will save you time and it means less is going to waste!
7. Get Reusable Straws
I recently switched to stainless steel straws and I love them! No plastic straws going to waste and they are super easy to clean. Plus, steel retains the temperature of your drink and prevents it from melting down, thus keeping your drink colder longer! Plus, they are dishwasher safe.  You can shop my favorite stainless steel straws here.
Fun Fact: Did you know steel straws are strong enough so you can drink orange juice directly from an orange? Yep, just push the straw into the fruit and enjoy! Citrus is huge in Arizona and I love me some fresh orange juice.
Here are links to EVERYTHING mentioned in this post:
Comment below or shoot me a DM on Instagram if you have any questions! xx – Becca