If you follow me on Instagram it's nooo secret that I'm a frequent pool go-er. Going to the pools in Scottsdale is sometimes the only option to cool down, and this time of year it's the nicest (before the pools start to feel like bath water in July…). Since the house I live in doesn't have a pool, I've been going to some of the free (!!!) local pools at hotels/resorts in the area and am sharing my findings of my favorite free pools in Scottsdale. If you stop by any or have any more free good ones, let me know in the comments!
Saguaro Hotel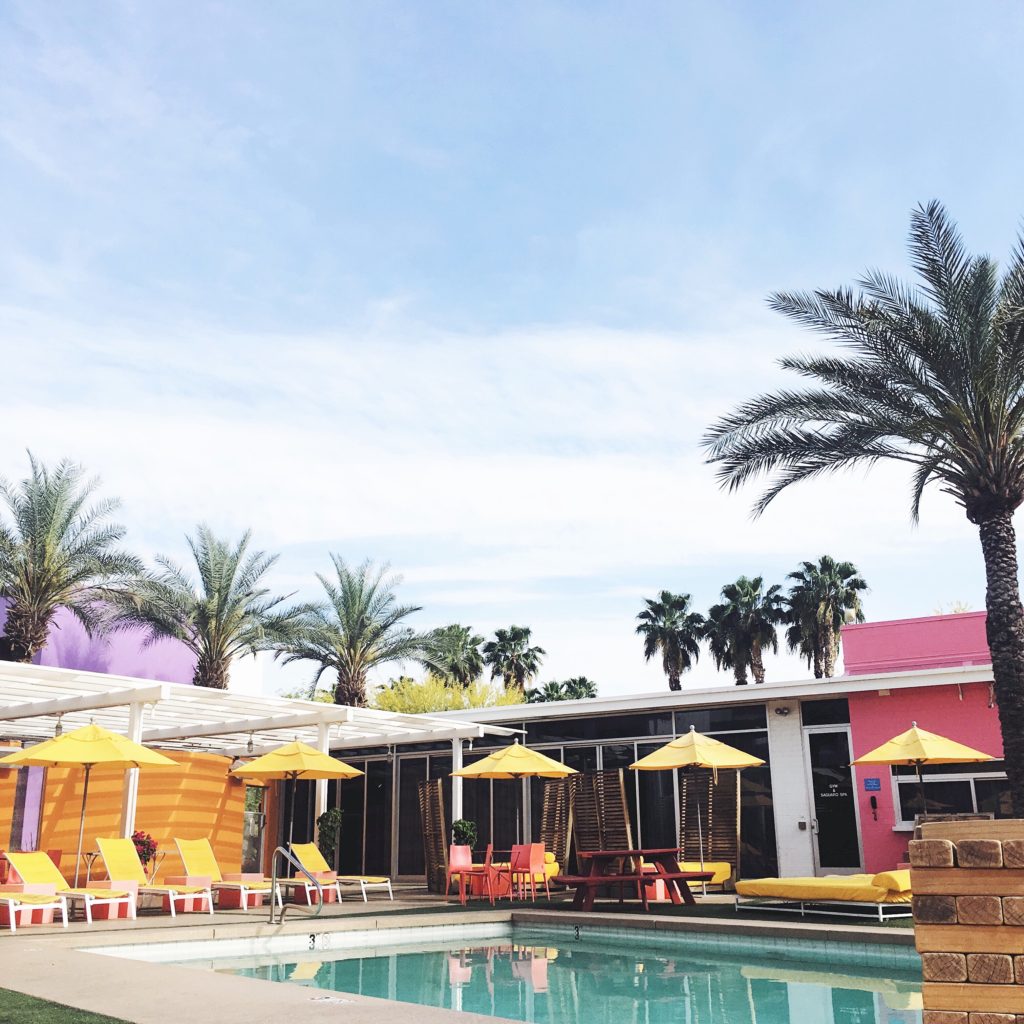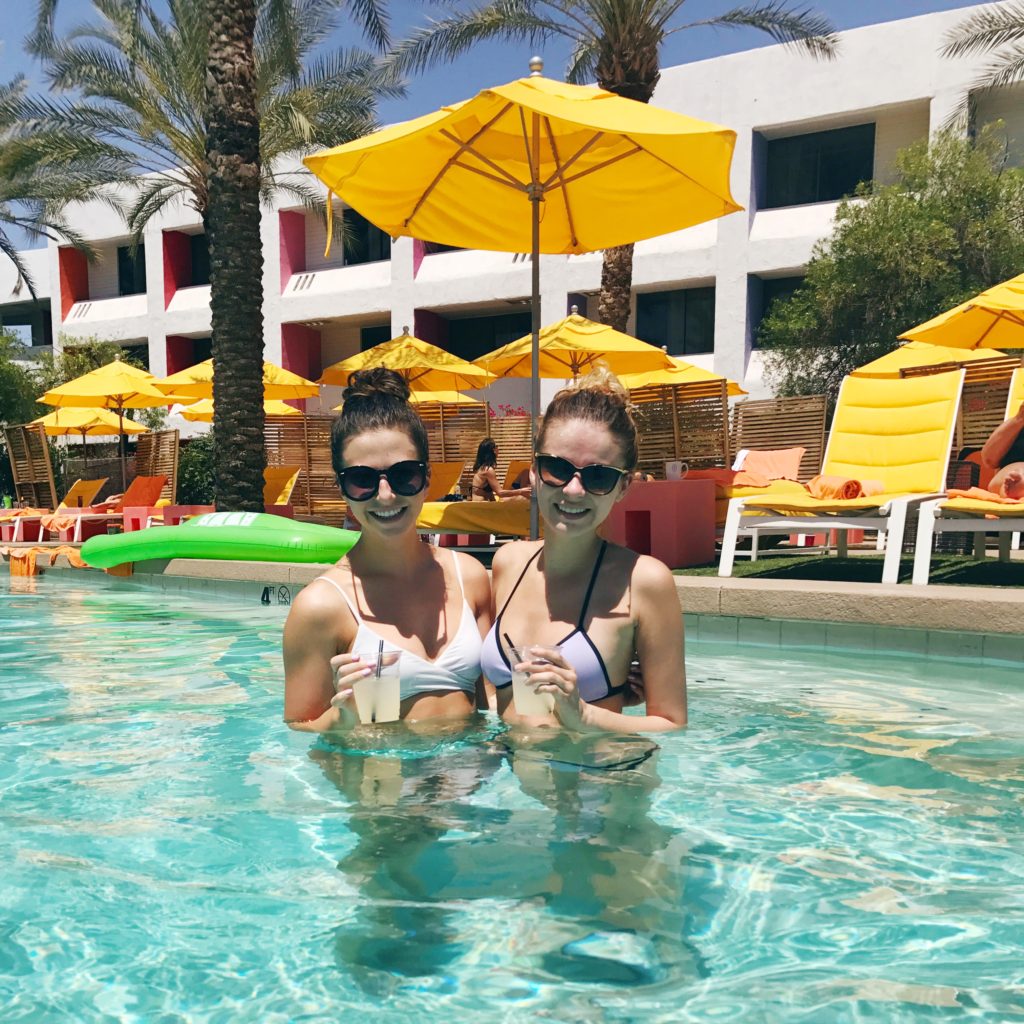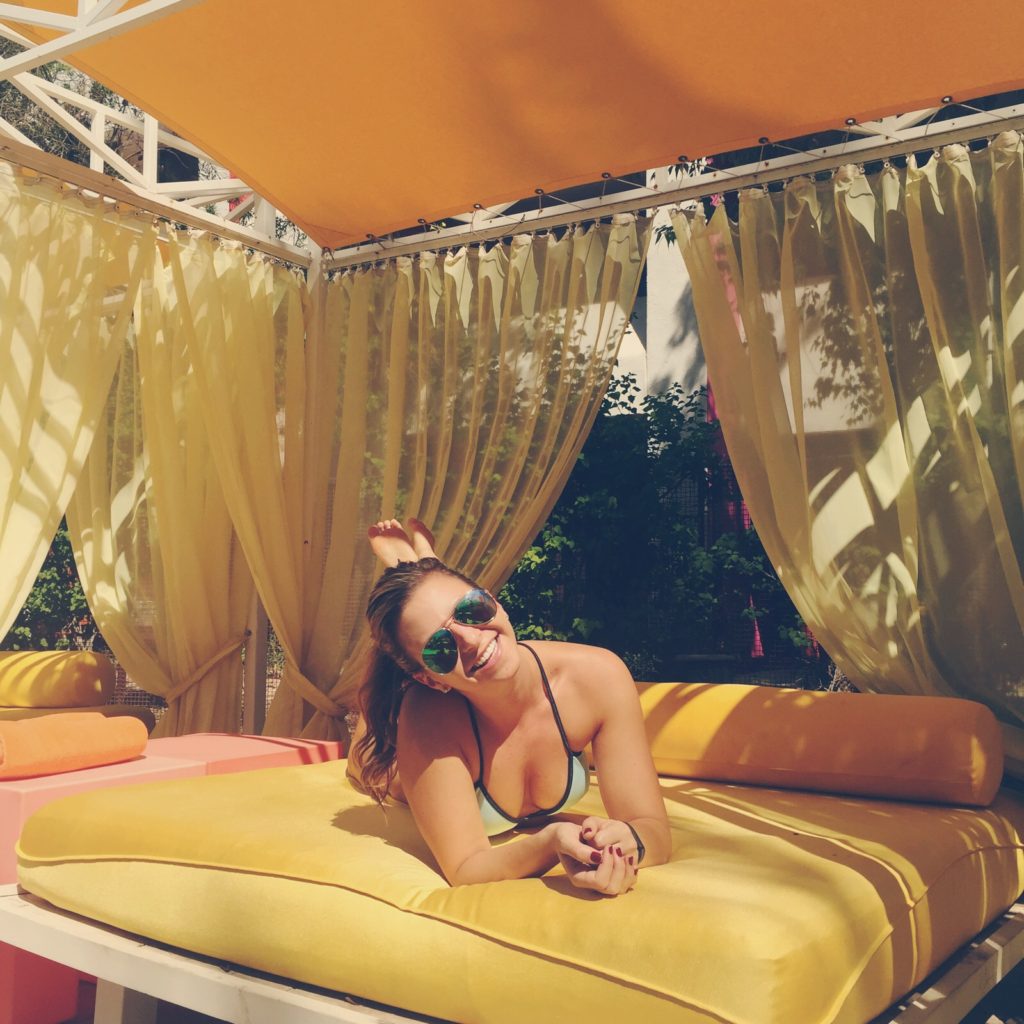 This one is like right up the street from me so easily my go-t0. Seriously though, one of the girls who works on their PR team was like wow I saw on Instagram you were here again last weekend… lol oops. The pool is located on the northwest side of the cart port/entrance and looks like it has a lock on the door, but it doesn't 🙂 The doors are locked during the week though, but if I stand on my tip-toes I can just reach over and open the door from the inside haha.
There is also a quieter, circular pool with a fountain on the northeast side that has some nice cabanas. It's smaller though, so it can be hard to find a chair.
Parking: Free lot (technically says for up to 3 hours but I've never had a problem) directly west of the hotel.
Food & Drink Situation: They have a pretty great bar and drink menu, and the food is pretty good too! I'd recommend the paloma for my tequila-loving friends. They have great sweet potato waffle fries too 😉
When To Go: Sundays, weekends before 10:30 am to get a chair
Pros: Cute decor/aesthetic, fun atmosphere without being too much of a party pool; most days they have free towels (sometimes on Saturdays they have "parties" and only give towels to hotel guests)
Cons: On busier days, their is usually a cover or they won't give non-hotel guests chair or towels! So be prepared. Also! I hear their cabanas are $300 with a minimum  $300 food & drink tab – soo over-priced! Not worth it for their quality or vicinity to the pool.
Omni Montelucia Resort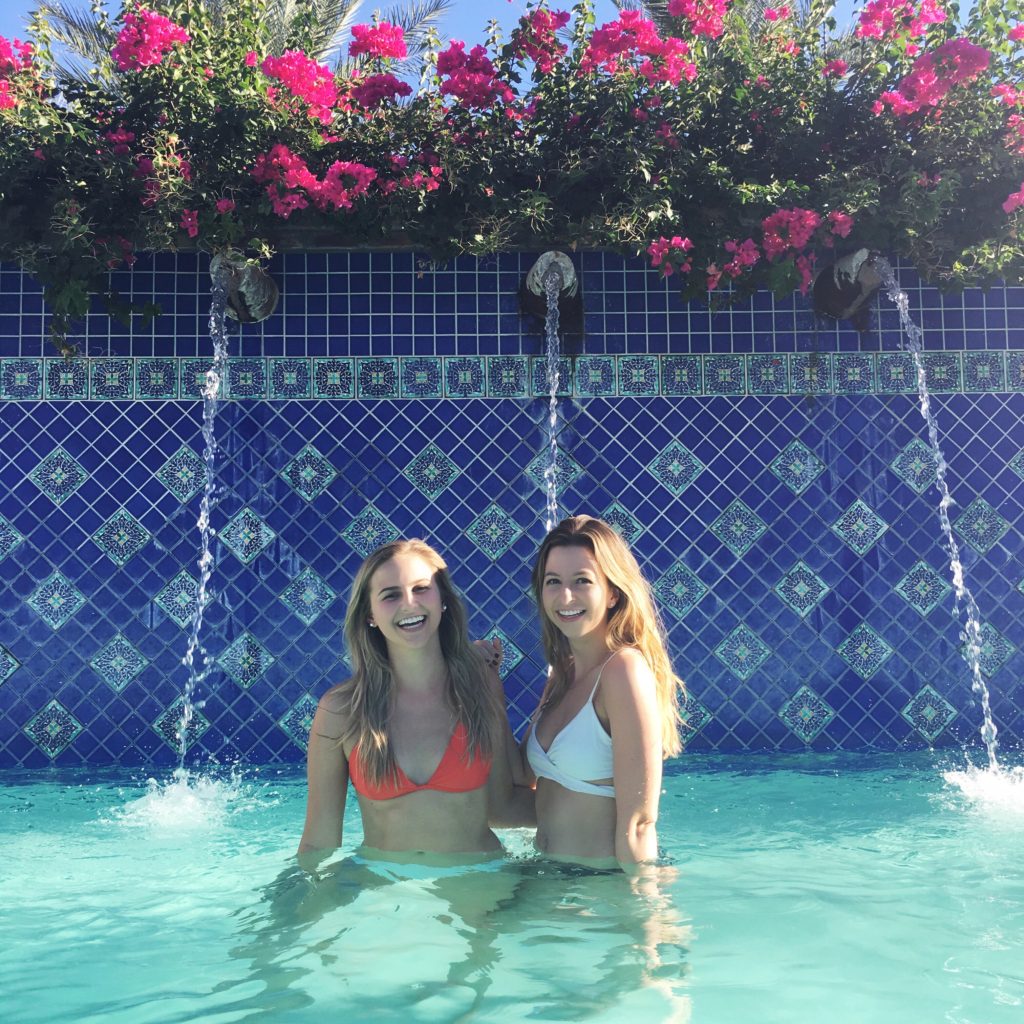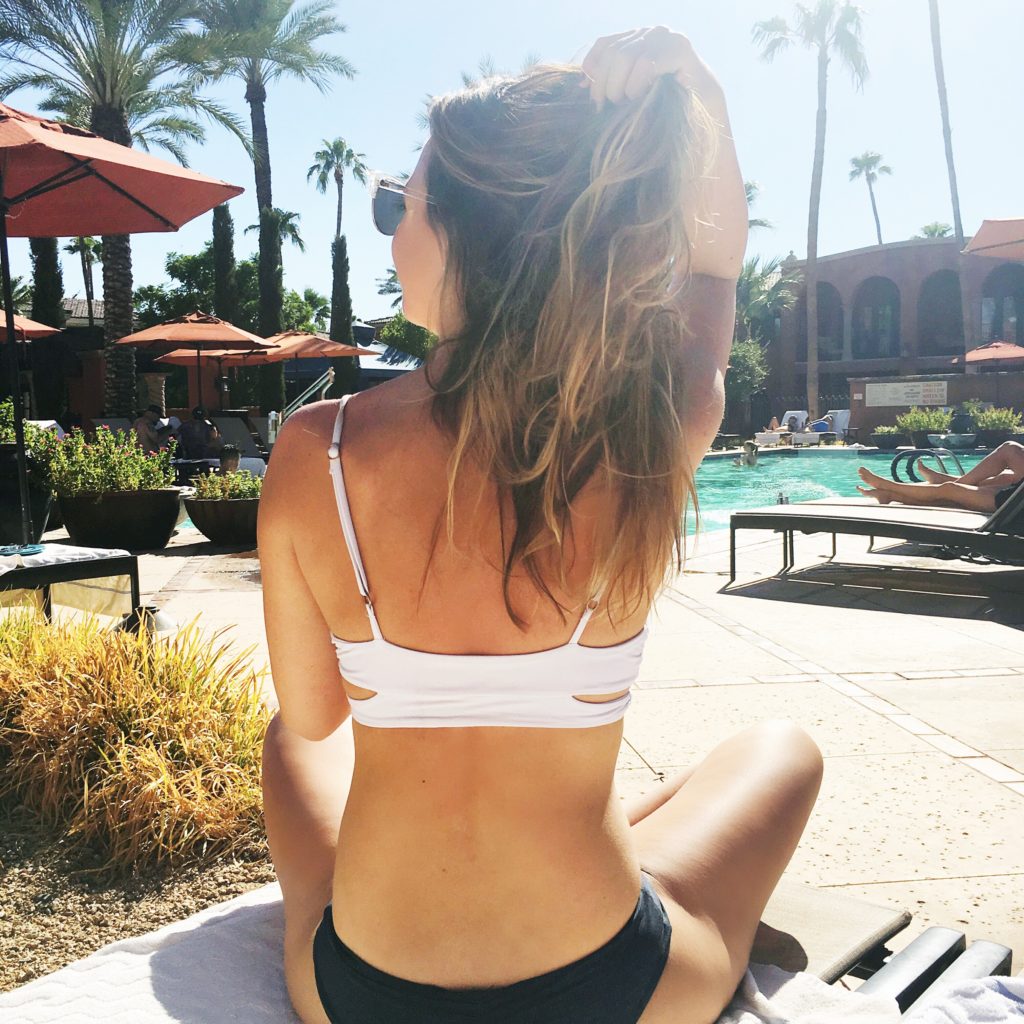 A little more higher-scale than the Saguaro, the Montelucia (technically in Paradise Valley) backs up on the north side of Camelback mountain just off Lincoln. It's a bit more of a "family" pool and there are lots of out-of-towners and less locals. I typically bring a book here and just focus on tanning.
Parking: There's a free underground covered lot! You'll have to take the stair up to the main floor to get to the pool. I think you only have to pay if you park overnight.
Food & Drink Situation: Get the pina colada!! And fish tacos. You're welcome. They have a great restaurant and bar on property though, so it's a good spot to grab dinner after a day at the pool.
When To Go: Any day
Pros: A little higher-end, great food/drink and service, it's a little quieter so it's great for reading
Cons: Kids! lol. It's a family resort, but they do have an adults-only pool, but the views aren't as good.
Valley Ho
Partayyyyy pool. The locals know this is a hot spot and on the weekends you get ID'd and wrist-banded before entering. It's right in the heart of Old Town so the location can't be beat. I've heard you can go to the front desk and ask for day-access to the pool though! The only time I've been to their pool was when I did a staycation, so not 100% positive on the amenities to non-guests!
Parking: On the north side of the hotel. I think you have to get a pass though!
Food & Drink Situation: The bartender named James is great. He's there on the weekends! Just ask him and it will be good haha
When To Go: Weekends are wild, but weekdays are more low-key. Get there early to get a chair
Pros: Great tanning & partying pool
Cons: Pool is smaller so it can get packed on hot days
Other Options:
Maya – There's a cover and if you dont have <1% body fat it's awful haha
The W Hotel – There's a cover and it can be hard to get a lounge chair as these go to hotel guests firsts
The Phoenician – Hard to get into and have to pay for hourly parking
Hope you enjoy some fun in da sunnnn!
xx
bbooks